Fact-checking Binky's fact-checking
Late last week, WRAL wonderboy — and Miss Leslie's coffee fetcher — Mark "Binky" Binker got rather apoplectic over a mailer sent out by the state Senate Republican political group: 
State Sen. Gene McLaurin, D-Richmond, isn't surprised to be playing defense this election cycle, but he said "it was a shock" to see a flier criticizing him for backing an immigration bill that top Republicans leaders also voted for.

Of 17 state Senate Democrats, he is the only one who is an incumbent in what analysts say is a swing district where voter registration and historical trends suggest Republicans could take the seat.

Given that seat's profile, it's no wonder McLaurin campaigns as what national analysts would call a "blue-dog Democrat," a conservative Democrat who will sometimes vote with the GOP, particularly on fiscal issues. For his part, McLaurin said he models his political philosophy on an answer former U.S. Sen. Terry Sanford once gave to the question of partisan labels.

"I'm a North Carolina regular," McLaurin said. "I don't feel like I fit any label."

So, it is no surprise that a recent North Carolina Republican Party campaign flier sought to eat away at that image by featuring a picture of McLaurin pasted next to a picture of President Barack Obama.

"Would an Independent Democrat Allow Businesses to Hire Illegal Immigrants Instead of American Workers?" screams a headline on the flier. "Of Course Not. But Gene McLaurin Did."
I agree with Binky in one respect.  Bashing somebody for doing something that most of your crowd DID TOO is a bit much.  (Kinda like bashing your opponent for using the powers of their office to enrich their friends and family when YOU have been doing it too.) MORE: 
[…]

THE IMMIGRATION BILL: The immigration vote in question came down in 2013. It dealt with a bill that called for more coordination among state agencies in their efforts to curb illegal immigration and tightened requirements that city and county governments require that contractors use the federal e-verify program to check the immigration status of workers.

However, one piece of the bill said that employers throughout the state, whether they were contractors or not, did not have to use the e-verify program for workers whose contracts extended less than 90 days. This was a provision that agricultural interests pushed hard for because farmers frequently hire seasonal workers, particularly around harvest time. Having to run background checks, the argument went, would cause delays in bringing in crops that farmers couldn't afford.
Binky gets the specifics of that bill wrong, as a spokesman for the immigration law firm Foster Quan points out:
RALEIGH, N.C.—Workers employed in North Carolina for less than nine months in a year will be exempt
from E-Verify requirements after lawmakers overrode a gubernatorial veto Sept. 4.
Gov. Pat McCrory (R) said he vetoed the bill (H.B. 786) because it had the potential to allow more
undocumented immigrants to be employed in the state (158 DLR A-15, 8/15/13). Supporters of the
legislation said it would ease the burden on North Carolina employers, particularly those in the
agricultural sector.
Changes to 2011 State Law
North Carolina originally enacted its E-Verify law in June 2011, requiring businesses and other
organizations with 25 or more employees to use the program (123 DLR A-4, 6/27/11).
The law, codified at North Carolina General Statutes Section 64-25 et seq., requires the use of E-Verify to
screen potential employees and imposes penalties for noncompliance. Prior to the changes adopted
under H.B. 786, only seasonal workers employed for no more than 90 days during a year were not
subject to the verification requirements.
H.B. 786 also would prohibit state and municipal agencies from contracting with private companies
unless those firms are using E-Verify.[…]
(Miss Leslie, please explain to Binky that NINE MONTHS is MORE than NINETY DAYS.)   MORE:
[…] The flip side of the flier continues the immigration theme.

"Obama and McLaurin. Together on Illegal Immigration. Together on ObamaCare Expansion – Even for Illegal Immigrants," it reads.

The legislative history on this bill is a little more straightforward, although the health care claim is somewhat tortured.

Medicaid is a health insurance program for the poor and disabled that is jointly funded by the federal and state governments.

Currently, North Carolina's health insurance program for the poor and uninsured covers most recipients whose families earn up to 100 percent of federal poverty benchmarks. The federal Affordable Care Act, what some people call "Obamacare," would have paid for states to expand Medicaid programs to those making 138 percent of poverty and and covered childless adults who are now largely left off the Medicaid rolls.

During debate on the 2013 budget, McLaurin voted for an amendment that would have expanded Medicaid coverage in North Carolina in response to the Affordable Care Act.[…]
Again, Binky appears to have a very loose grasp on the facts.  He COULD have referred to our previous reporting, or even to the glorious HealthCare.gov web site for a refresher: 

In order to buy private health insurance through the Marketplace, you must be a U.S. citizen or be lawfully present in the United States. The term "lawfully present" includes immigrants who have:

"Qualified non-citizen" immigration status without a waiting period (see the definition below)

Humanitarian statuses or circumstances (including Temporary Protected Status, Special Juvenile Status, asylum applicants, Convention Against Torture, victims of trafficking)
Valid non-immigrant visas

Legal status conferred by other laws (temporary resident status, LIFE Act, Family Unity individuals)[…]

Immigrants who are "qualified non-citizens" are generally eligible for Medicaid and Children's Health Insurance Program (CHIP) coverage, if they are otherwise eligible for Medicaid and CHIP in the state (in other words, if they meet their state's income eligibility rules).

The term "qualified non-citizen" includes:

Lawful Permanent Residents (LPR/Green Card Holder)

Asylees

Refugees

Cuban/Haitian entrants

Paroled into the U.S. for at least one year

Conditional entrant granted before 1980

Battered non-citizens, spouses, children, or parents

Victims of trafficking and his or her spouse, child, sibling, or parent or individuals with a pending application for a victim of trafficking visa

Granted withholding of deportation

Member of a federally recognized Indian tribe or American Indian born in Canada

In order to get Medicaid and CHIP coverage, under current law most LPRs or green card holders have a 5-year waiting period. This means they must wait 5 years after receiving "qualified" immigration status before being eligible for Medicaid and CHIP. There are also exceptions — LPRs who don't have to wait 5 years — such as people who used to be refugees or asylees. […]
Let's see.  That creates an exception for all of those kids coming across the border.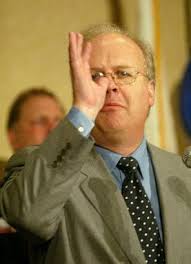 They're ALL claiming to be refugees seeking asylum.  Obama is pretty much halting deportations.  Claim you're being beaten up or threatened by someone.  Been here since before 1980? Been in the country for a year?  All of that qualifies you for ObamaCare. . Allowing that NINE MONTH exemption gives more time for these folks to be "encouraged" to sign up for ObamaCare.
The mailer is actually not that far off.  Giving him a pass for doing what a bunch of other Republicans did is unacceptable.  All of those GOPers need to feel some heat too for this vote.
So, for his reporting on this, we award Binky ONE Karl Rove raspberry.