Ellmers triples down on amnesty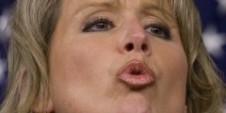 She refused to defund Obama's executive order on amnesty for illegal aliens, refused to deport sex offenders and abusers, and would not defund amnesty for unaccompanied illegal alien children.  And then there was her NO vote on THIS amendment:
[…] "Sense of the Congress" language such as that introduced by Rep. Schock is excellent for statutory intent and review purposes (e.g., when laws such as the appropriations act are being examined in the course of lawsuits and other court actions), but it doesn't get to the meat of the problem by actually doing anything to stop the extra-constitutional actions of the chief executive.

The Salmon Amendment, Introduced by Reps. Matt Salmon (R-Ariz.) and Glenn Thompson (R-Pa.). Like the Schock Amendment, this is a "sense of the Congress" amendment. This one expresses concern that the Affordable Care Act is skewed in a way that makes it beneficial for U.S. employers to hire illegal aliens who have become beneficiaries of "executive action" (which includes work permits) since they aren't counted for tax and penalty purposes; and that, therefore, the executive branch should refrain from pursuing such lopsided policies at the expense of lawful American workers. Unfortunately, also like the Schock Amendment, this amendment does nothing to actually stop the unfair situation that it describes, nor does it curb the president's overreach into the legislative arena. […] 
Seriously?  This one is a compound sin.  She is passing on an opportunity to attack: (1) ObamaCare, and (2) amnesty.