Early voting starts October 20
That's about two weeks down the road.  A lot of low-information voters are and will be doing research in preparation for heading to the polls for the early voting.  We thought we'd do our part to help some of those folks out on some of the seriously contested races.
Here are some Moore County races: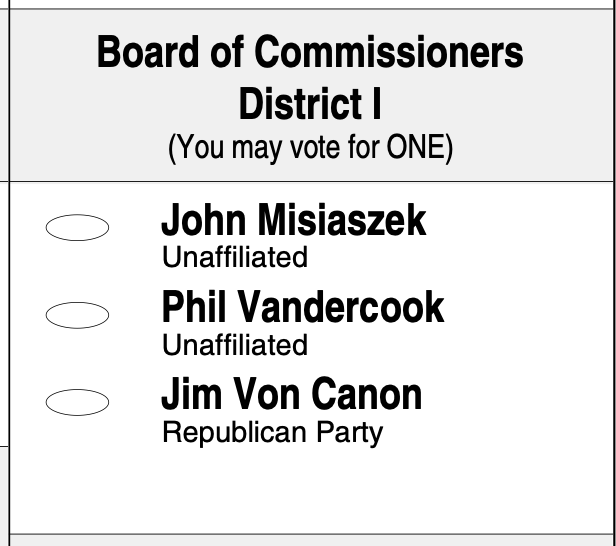 Misiaszek is perpetrating a "Gerald-Galloway."   He's a liberal Democrat posing as a grassroots hero-of-the-people. With the voter breakdown in Moore County, there is only ONE possible scenario that gets him elected.
There is little to no difference issues-wise between Vandercook and Von Canon.  Both are retired military.  The race between those two is basically a personality brawl between supporters.  Von Canon has a much better and broader organization than the other two candidates. He also is much more accomplished and has stronger ties to Moore County than the others.  That makes him the favorite.
Vandercook has made some mistakes at the grassroots level that have hurt him in the eyes of some key political operatives around the county.
Misiaszek stands a chance if the slugfest between Von Canon and Vandercook divides the conservative vote significantly.  The Democrat vote — Misiaszek's pals — in the county is typically at about 36 percent.
This is Von Canon's race to lose.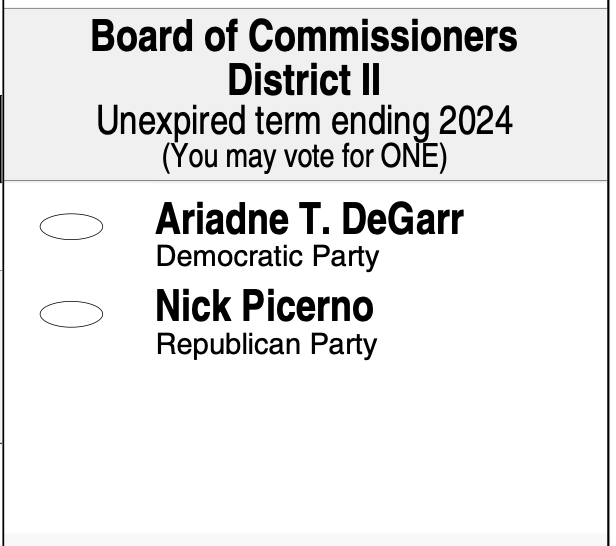 I know both candidates in this race and possess positive feelings about each of them.  But — hands down — Nick Picerno is the only choice here.  Picerno is a solid conservative who is arguably the smartest person to ever serve on the county board.  He's been a public school teacher, and started a business from scratch (which he sold for mucho dinero.)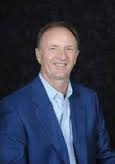 Now, let's look at the race for Moore County Board of Education.  The board currently has a 4-3 split between apologists for the central office and teacher unions (the 4) and fiscal conservatives seeking to take power away from the bureaucracy and put it in the hands of parents (3).
One more conservative board member can produce earth-shattering change for Moore County public schools.  There is a chance to add THREE new members on Election Day.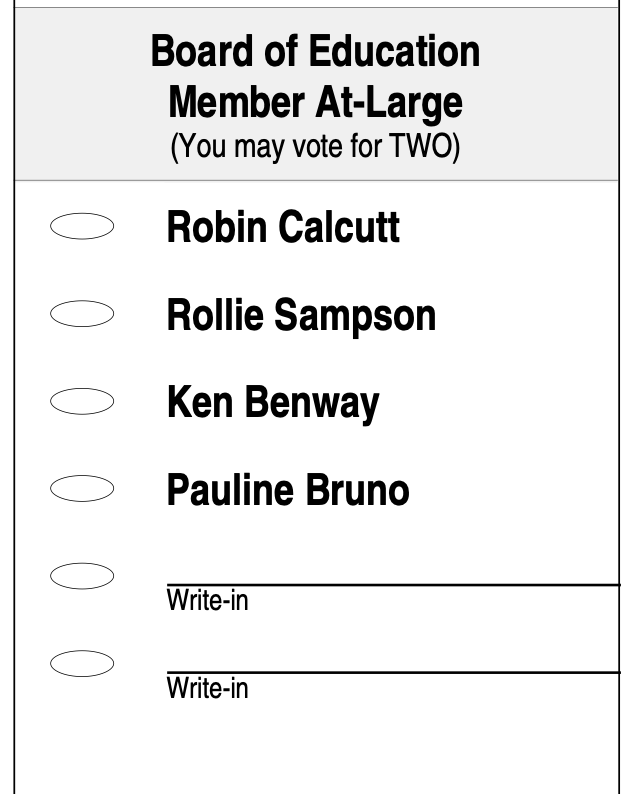 Robin Calcutt and Rollie Sampson are long-time bureaucrats (Democrats, too) at the central office.  They think public schools are perfect as-is.  Ken Benway and Pauline Bruno are the conservative, families-first candidates in this race. Bruno and Benway are the two choices here.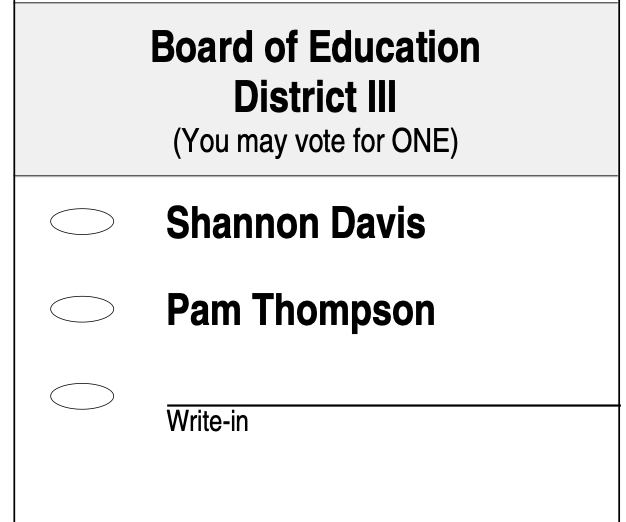 Pam Thompson is a Democrat and loyal supporter of the public schools bureaucracy.  She's been a dependable vote for bigger spending and a bigger bureaucracy.  Davis is the choice here.
It's important to protect and build a conservative majority on the court of appeals.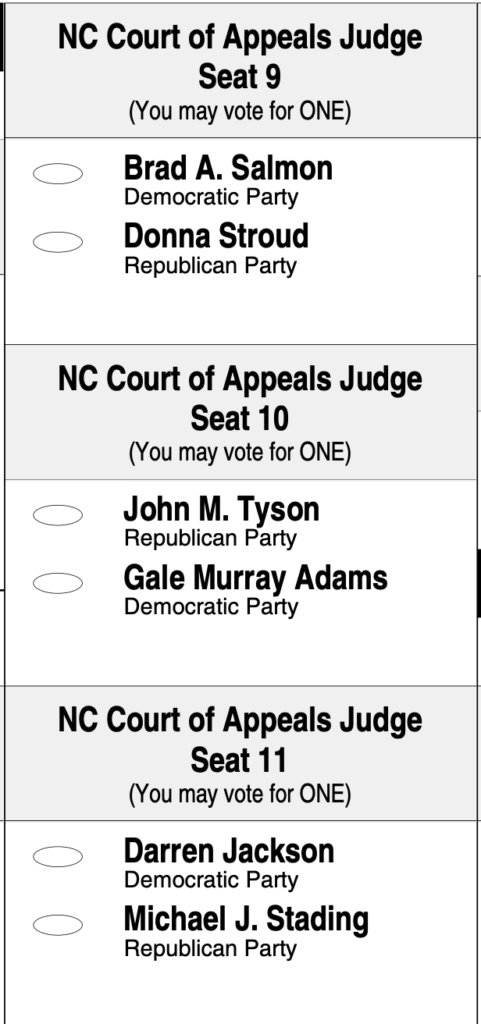 Darren Jackson was recently the Democrat leader in the NC House.  To me, he came off like a HUGE wimp.  But I give him major props for giving the Haymaker a shout-out on WRAL — describing the effect we have on his GOP colleagues.  Though, he needs to stay in private practice.  Michael Stading is the choice for seat 11.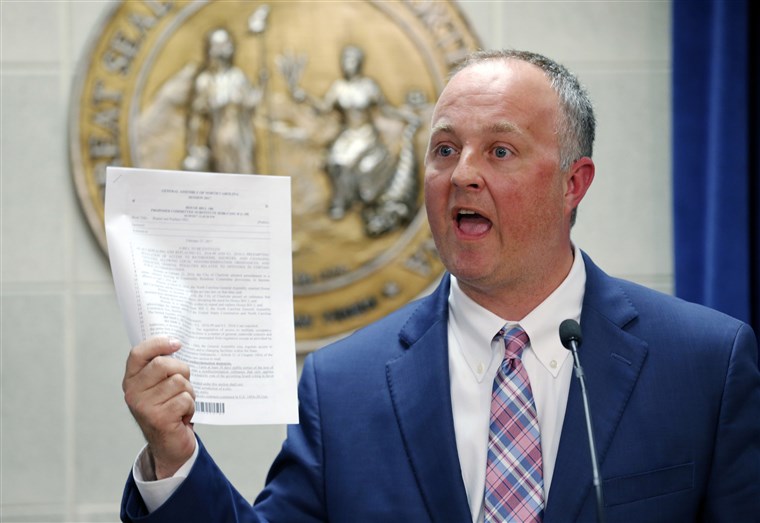 John Tyson of Fayetteville is a veteran, dependable conservative judge who deserves your vote for seat 10.
Brad Salmon is a Sanford-area attorney.  He represented Lee County for one term in the NC House.  But Donna Stroud is the choice in this race for seat 9.
And now for the BIG race: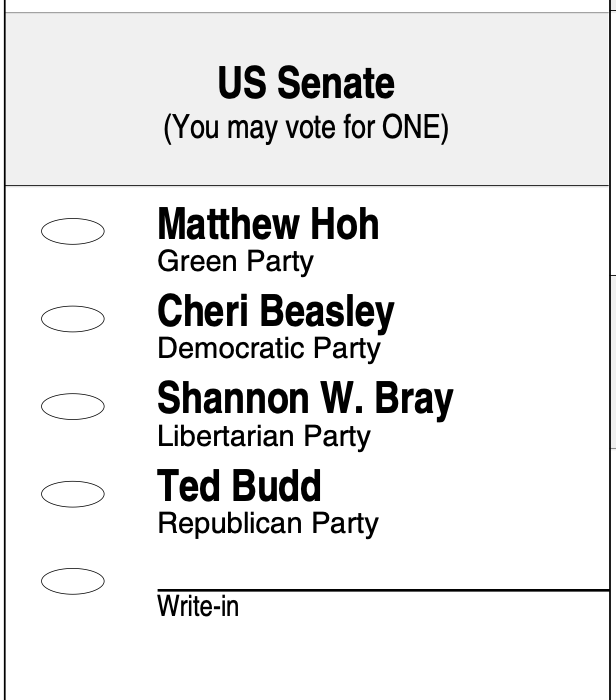 The Green Party should strip some votes from Democrat Cheri Beasley.  One would think the Libertarian would hurt Republican Ted Budd.  But modern Libertarians have moved so far left that they are not too different from the Greens.  So, their candidate could also hurt Beasley some.
Ted Budd has run one of the worst campaigns I've seen since Dan Forest for Governor.  His use of Tillis campaign operatives and his embrace of Thommy during the campaign have me concerned.  I hope hope hope, if he gets to the Senate, we see more "US House Ted" than "Tillis disciple."
Budd has partnered up with Dan Bishop quite a bit in the House. Let's hope Dan's influence continues.
Of course, we should remember the departing Burr.  Tricky Dick was A-Okay in the House, but went off-the-rails bonkers in the Senate. I don't want an encore performance from his successor.  We should all hold our breath, cross our fingers, and vote for Ted Budd.