CR ratings: Tilli$$$ most liberal NCGOPer in DC
All of that crossing the aisle and 'outcomes' nonsense is paying off for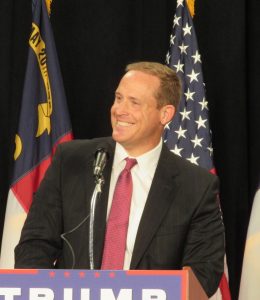 the man from Florida Tennessee Cornelius Huntersville.  Conservative Review has their latest rankings out,  and here are some of the highlights:
Ted Budd (R-13) tops the list with a perfect score of 100.  

Mark Meadows

(R-11) is a close second with a 95. Walter Jones (R-3) comes in third at 87.   (Kinda puts a dent in that whole 'liberal Walter' spin that floats to the surface every time primary season comes around.)

Patrick McHenry

(R-10), with a score of 50, has displaced Robert Pittenger (R-9), scoring 55, as North Carolina's most liberal Republican in the US House.  (Pittenger has a tough primary in May.)
Ted Budd is part of a 7-way tie for "most conservative" in the US House.
McHenry and Pittenger are the only two NCGOPers in the House to earn F-ratings.
Over in the Senate, Utah's Mike Lee was the only Republican to earn a perfect score.
Four Senate Republicans did earn A-ratings.  (South Carolina's Tim Scott led off the B-ratings with a score of 86.)
Thom Tilli$$$ (score of 39) and Richard Burr (score of 40) are the 38th and 39th most conservative in the chamber.
Jeff Flake — who never misses a chance to beat up on and vote against Trump — is more conservative (score of 57) than our two guys.  Our two guys rank only one slot higher than John McCain (score of 35).
South Carolina's Lindsey Graham (score of 35) is tied with McCain and is two slots to the left of Burr and Tilli$$$.
David Price (D-4) — with a score of 6 — has managed to position himself to the left of our two Black Caucus members, GK Butterfield and Alma "Mad Hatter" Adams.