Congressman Howard Coble: My promises have time limits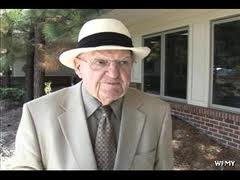 Congressman Howard Coble (RINO-Greensboro) is in the midst of his SECOND consecutive attempt to SCREW his constituents. (The first being his endorsement of Joan "Distant Third behind John Marcum" Thurman for Pinehurst mayor.) 
The Hill reported this week that Coble is one of a number of House Republicans backing out of  a no-tax-increase pledge they signed:
Grover Norquist's grip on the House Republican Conference is loosening.

A growing number of GOP lawmakers have disavowed Norquist's pledge against supporting tax increases in recent days, telling The Hill they no longer feel bound to uphold a document that they signed, in some cases, more than a decade ago.

Norquist's advocacy group, Americans for Tax Reform, lists 238 House signers of its Taxpayer Protection Pledge, but several House Republicans, and at least one Democrat, now say the anti-tax group is being deceptive and want their names taken off the list."I haven't signed it since 1994," Rep. Steven LaTourette (R-Ohio) said, explaining that he didn't even remember endorsing the pledge until Americans for Tax Reform produced the original document earlier this year.

In its publicly displayed list of signers "in the 112th Congress," Norquist's group includes several members who say they have specifically refused to sign the pledge during their most recent campaigns.

The sheet of paper they signed years ago, the lawmakers say, is no longer valid.

"My driver's license expires. The milk in my refrigerator expires. My gym membership expires, and I find the website to be a little deceptive," LaTourette said.

Norquist immediately dismissed the claim, which was echoed by several other House Republicans.

"Does that even pass the laugh test?" Norquist told The Hill. "A promise not to do something doesn't have a time limit.

"I haven't even had junior state legislators pull that crap," Norquist added.

The pledge dissenters represent the latest challenge to Norquist, widely considered the nation's most influential anti-tax activist. Democratic leaders have targeted his power in recent weeks, vilifying him as a puppet-master of the Republican Party.

The pledge, which Norquist launched in 1986, has taken on added significance as the congressional "supercommittee" on deficit reduction nears its deadline for finding at least $1.2 trillion in budget savings over 10 years. Democrats are insisting on new tax revenues, but the pledge mandates that any tax changes be revenue-neutral. They blame the pledge for the impasse in the talks.

"The difficulty we find is that every one of these discussions, Grover Norquist seems to be in the room," Senate Majority Leader Harry Reid (D-Nev.) told reporters Tuesday. "I am hopeful that the Republicans on the supercommittee will break away from this."

Reid's comments came as GOP panel members offered to raise tax revenue by limiting deductions in exchange for lowering rates, in what aides characterized as a significant concession in the negotiations. Democrats panned the offer, saying the new revenue would be erased by extending Bush-era tax rates. Norquist, meanwhile, derided it in a Twitter post as an "idiot idea" reminiscent of the Alternative Minimum Tax.

All but six House Republicans are listed as signers of Norquist's pledge, meaning that a voting majority of the body is on record opposing tax increases. Forty GOP senators and one Democratic senator have signed it.

Norquist has waged public battles with other Republican critics of his activism, most notably this spring with Sen. Tom Coburn (Okla.). House Speaker John Boehner (R-Ohio) raised eyebrows last week when he referred to Norquist as "some random person" even as he defended the House GOP's steadfast opposition to tax increases.

Americans for Tax Reform lists two House Democrats, Reps. Robert Andrews (N.J.) and Ben Chandler (Ky.), as pledge signers, but Andrews told The Hill he signed the document a single time, in 1992, and wants his name removed.

"I understood it to mean that for the next term, if I were elected, I would not vote to raise taxes," Andrews, who called the ATR website "terribly misleading," said in an interview. "I honored that pledge. I never renewed it.

"I never considered it to be like my marriage vows," he added. "I'm married to Camille Andrews, not Grover Norquist. I promised her to be faithful until death do us part, and I mean it. I did not promise him to oppose tax increases until death do us part."

Rep. Mike Simpson (R-Idaho) signed the pledge in 1998, when he first ran for Congress, and said he didn't even know he was still on the list until earlier this year. "I thought it was for the next Congress," Simpson said. "If it sticks with you forever, why do they ask you to re-sign it every two years?"

LaTourette said he had also assumed he had not signed it and even enlisted Boehner's office to check with Norquist's group, which confirmed that he did endorse the pledge in 1994.

ATR officials said the group's practice is not to ask pledge-takers to sign it more than once, although several lawmakers reported being sent the pledge regularly during their reelection campaigns. Norquist said it was perhaps sent by state or local groups and that sometimes ATR sends it out en masse to candidates. But, he added, that's never under the notion that those who have already signed it have to sign again.

Republican Reps. Howard Coble (N.C.), Pete King (N.Y.) and Lee Terry (Neb.) all indicated, either in interviews or through spokesmen, that they signed the pledge more than a decade ago but not for the current Congress. They were among 40 House Republicans who joined 60 Democrats last week in signing a letter to the supercommittee urging a grand bargain on deficit reduction that included revenues, entitlement reform and spending cuts.

"As far as Mr. Norquist is concerned, that's his call if he wants to bind us all based on one signature," Coble said.

Norquist has long emphasized that the pledge is made to a candidate's constituents, not to him or Americans for Tax Reform. And he has said that his group is more concerned with lawmakers' voting record on taxes, instead of their rhetoric.

"Talking about robbing a little old lady is not the same as bashing her over the head and stealing her purse," he said. "Talking about raising taxes on a little old lady is not the same as taxing her."

But he also signaled that ATR would not hesitate to target pledge signers if they voted for a debt deal that included tax increases.

"They made a promise to their constituents," Norquist said. "If they do raise taxes, they were elected on a lie. And we're not going to pretend they're not lying."
This sounds like something Coble's old buddy SpeakerrrrrrRichardMorgan™ would pull.   (In fact, SRM™ DID pull stuff like that.)   THIS is what you get when you don't hold politicians accountable.  Grandpa Howard can come down here, do a little shuck-and-jive at a Rotary lunch, and leave with a ton of campaign cash and standing ovations.
We may be rid of this guy — thanks to redistricting.  (Renee Ellmers is not much better.  In 1/2 of a term, she has already thrown her campaign platform out the window.) But Grandpa Howard NEEDS to go.  If he thinks tax increases are something to seriously consider in this economic climate,  he's not any better than the sacrificial lambs the Dems throw up against him each year.
Rumors are rampant that Grandpa Howard will retire in 2012.  If he doesn't leave on his own, we — the voting public — need to help him find the door.