Closing the barn door after ALL the horses and cows have left
Thom Tillis never ceases to amaze.  He can rack up a years-long record of party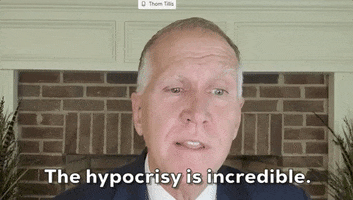 betrayal, and SOMEHOW gets an award from the state GOP.  He can campaign as a 2nd Amendment vanguard, but work with DC Dems to limit our gun rights.  He can claim to be conservative while hopping on board with all kinds of new spending.  He can also champion all kinds of amnesty for illegal aliens and go on Tucker's show to blast Trump's border wall.  Then, he can — while we're on the precipice of a full-blown border disaster — sound all hardline on illegals at the border:
Sen. Thom Tillis is pushing this week to reinstate an expiring and controversial immigration policy that turns migrants away at the border.

Last month, Biden announced that on May 11 he would end the country's public health emergency tied to COVID-19. That effectively concludes a myriad of policies put in place to keep the public safe from the deadly virus, including Title 42. Begun in March 2020 under the Trump administration, Title 42 gave border agents the ability to quickly turn away people at the border who posed a public health risk. The Biden administration later expanded the policy.

Homeland Security Secretary Alejandro Mayorkas said in a news conference Wednesday that smugglers on the border have been misreporting to people that at 11:59 p.m. on May 11, the southern border would be open for people to cross. That has led to to a surge of migrants flocking to the border and entering the United States. The Biden administration is moving resources, including troops, south to help border agents deal with the increase.

Tillis criticized Biden last week, saying that the president failed to secure the border and that the situation would only get worse. He and Sen. Kyrsten Sinema, an independent from Arizona, which borders Mexico, proposed a bill that would put in place all the provisions of Title 42, without tying it to a public health emergency.

"It's clear that Congress must immediately step in, and the bipartisan bill I'm introducing with Senator Sinema will help prevent the catastrophic fallout at the border we'll soon see if no action is taken," Tillis said in the news release.

Outside the Senate chamber Wednesday morning, Tillis told McClatchy he's "very concerned."

"But I'm also concerned about every single policy Biden has taken down, which has caused this crisis," Tillis said. "This is just going to be a multiplier, but he really needs to rethink a lot of the authority he has that he has taken off the table."

[…]

Sinema and Tillis first proposed this legislation last year but weren't able to get a bill to the floor before a newly elected Congress took over.

At the time, Tillis told McClatchy that the Border Patrol Council, a labor union representing border patrol agents and their support staff, had told Congress that they would lose control of the border if lawmakers failed to address the consequences of Title 42.

U.S. Customs and Border Protection reported having 2.38 million land border encounters at the southern border in the 2022 fiscal year, up from 1.73 million the year before.

In December, more than 252,000 migrants had southwest land border encounters, which fell to 156,787 before increasing again in March to 191,899. The Wall Street Journal reported that the decrease is typical due to the cold weather and holiday season.

Sinema said that the surge has led to her constituents being forced to manage a crisis they didn't create.

"Our legislation gives the administration time to actually implement a realistic workable plan that will secure our border, protect Arizona communities on the front-lines of this crisis, and ensure migrants are treated fairly and humanely," Sinema said in a news release.

[…]

Mayorkas praised Biden Wednesday afternoon, saying changes the president made to immigration policies have led to a better pathway for people from Cuba, Nicaragua, Venezuela and Honduras to enter the country legally and reduced border encounters from people of these countries by 90% between December and March.

The Homeland Security secretary placed the blame on the border crisis directly at the feet of members of Congress.

"I can not overemphasize that our current situation is (the) outcome of Congress leaving a broken, outdated immigration system in place for over two decades despite unanimous agreement that we desperately need legislative reform," Mayorkas said. "It is also the result of Congress not (providing) us with the resources we need and requested."

[…]Meanwhile, Tillis and Sinema are working to find bipartisan support to get their bill through the Senate and into the House.

The bill offers the Biden administration a two-year expulsion authority for migrants at the border.

In a joint statement Tillis and Sinema said that the bill provides protections for migrants whose return to their own countries would pose a threat to their life or freedom or expose them to torture. It also allows for a case-by-case exemption for migrants with acute medical needs.

Tillis wasn't overconfident about his bill passing right away.

"Not before (the policy) expires at midnight," Tillis said, adding that he expects at least three weeks before he can get it through Congress.

"But I do think we're going to see an immediate influx, and I think that could put pressure on the administration," Tillis said.

Democrats control the Senate, and Biden could veto any legislation he opposes.[…]
Some people attribute these ideological acrobatics to a case of butthurt over being outshined by freshman Ted Budd.  I think he's remaking himself for a potential run for something new — like governor.