Civitas: Pinehurst's Blake is NC Senate's top conservative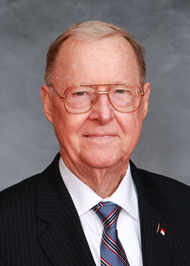 According to NC Civitas, a Raleigh-based conservative think tank, Senator Harris Blake (R-Pinehurst) is wrapping up this session at the top of the class, with a perfect conservative voting record.  Blake topped all  50 Senators with a perfect score of 100, while state Reps. John Blust (R-Greensboro) and Tim Moffitt (R-Asheville) each scored 98 to lead the House.   The most liberal members of each chamber were Rep. Earline Parmon (D- Winston Salem) and Senator Ellie Kinnaird (D-Carrboro).
Each year, Civitas compiles these rankings by selecting pieces of legislation they see as most significant, charting what they see as the conservative position, then awarding points to all legislators who vote that way.
Senator Blake is retiring at the end of the current session.
Civitas's Francis DeLuca discussed the 'big picture' conclusions of his group's analysis with The N&O's Under The Dome:
In its analysis, Civitas' Francis DeLuca reported that the legislature turned strongly conservative after Republicans took the helm in 2010, compared with scores from the previous three years. Overall, the conservative score for the House went from 32 percent to 62 percent and the Senate jumped even more from 27 percent to 76 percent.

DeLuca determined that the large contingent of freshmen in both chambers led the charge, rating at 91 percent conservative in the House and 97 percent in the Senate. With the GOP takeover, the Democrats are more conservative as well, the analysis found. House Democrats moved from 11 percent to 25 percent and Senate Democrats shifted from 7 percent to 38 percent.

"When they are presented with more conservative bills, as represented in this year's session, they are inclined to vote more conservatively, regardless of party," DeLuca said.