Caught giving $$$ to Obama, Adam Schiff? Man Up, and blame it all on the women in your life.
That's the path nominal Republican Arthur Donadio —  lame duck incumbent DA Maureen Krueger's hand picked successor — appears to have taken.  And his "explanation" appears to raise  more questions than it answers: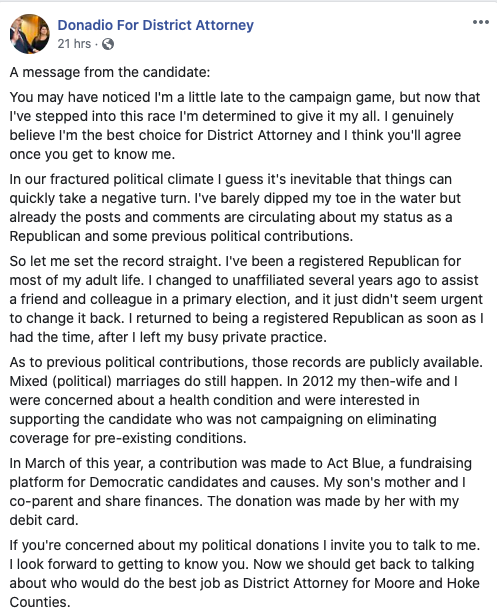 In 2012,  Barack Obama was running for president.  He had Republican opposition.  I don't recall the Republican candidate making "eliminating coverage for pre-existing conditions" a plank in his campaign platform.  Obama was on the verge of  launching ObamaCare.
Our previous coverage of the D.A.'s race also found that Donadio donated THIS YEAR to California Democrat Adam Schiff – who we all know is leading the impeachment effort against Donald Trump.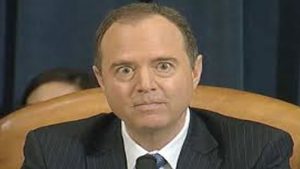 Anyone who has donated to a campaign KNOWS that — if you give over a certain amount — you have to fill out a form identifying yourself and your occupation / employer.  Just to review,  HERE is what official records show about Donadio's donations: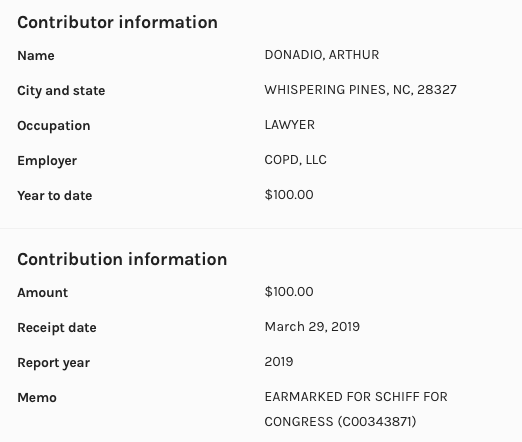 COPD is apparently short-hand for the Southern Pines law firm of Crockett, Oldham, Pope and Donadio.
Donadio's campaign's Facebook page indicates he joined the Moore D.A.'s office in June of this year.   In July,  Krueger announced she would not be seeking reelection.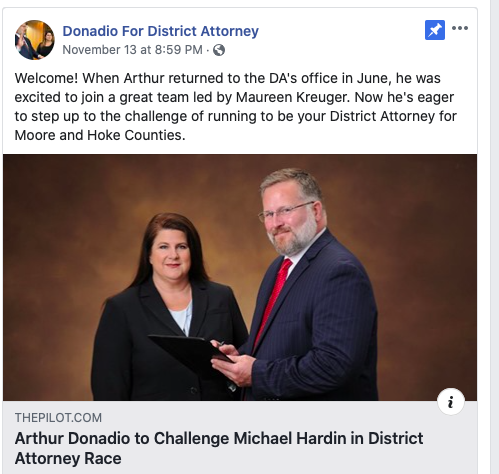 If — as Donadio says — his "son's mother"  made the contribution with his debit card without his permission and / or knowledge,  we have a troubling piece of information to deal with. The donation to Schiff was  made in Donadio's name instead of his "son's mother's" name.  Federal election law requires completely truthful information in reporting all qualifying campaign donations.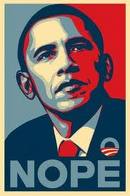 And there's this:


These are some important issues that need to be publicly cleared up by someone aspiring to be on the Republican ticket as our area's chief prosecutor.