Burr: Resistance to ObamaCare implementation is "the dumbest idea"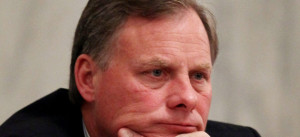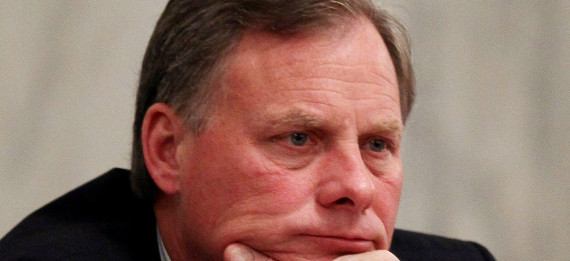 From 1972 to 2002, North Carolina was represented in the US Senate by one of the nation's most preeminent conservatives. Since 2004, we've been stuck with Richard Burr — a guy highly impressed with John McCain and Lindsey Graham,  who snubs leaders like Rand Paul to be wined and dined by Barry Obama, and frequently says things like THIS: 
Sen. Richard Burr (R-N.C.) on Thursday didn't just reject efforts by a faction of Senate Republicans to shut down the government unless the president's health care law is defunded — he called it the "dumbest idea" he'd ever heard of.

Burr was asked by Associated Press reporter Andrew Taylor if he was part of an effort, led by Sen. Mike Lee (R-Utah), to block a continuing resolution that would keep the federal government open beyond Sept. 30 if it includes funding for the implementation of the Affordable Care Act.

The movement has the support of at least 15 Republican senators: Marco Rubio (Fla.), Ted Cruz (Texas), John Cornyn (Texas), Rand Paul (Ky.), James Inhofe (Okla.), David Vitter (La.), James Risch (Idaho), Roger Wicker (Miss.), Jeff Chiesa (N.J.), John Thune (S.D.), Mike Enzi (Wyo.), Deb Fischer (Neb.), Mark Kirk (Ill.), and Chuck Grassley (Iowa). More than 60 House Republicans signed a letterWednesday to House Speaker John Boehner (R-Ohio) urging GOP leadership to take the same stand.

"I think it's the dumbest idea I've ever heard of," Burr said. "Listen, as long as Barack Obama is president, the Affordable Care Act is going to be law."

The North Carolina senator pointed out that he was around when Republicans were held accountable for shutting down the government in 1995.

"I think some of these guys need to understand that if you shut down the federal government, you better have a specific reason to do it that's achievable," he said. "Defunding the Affordable Care Act is not achievable through shutting down the federal government. At some point you're going to open the federal government back up, and Barack Obama's going to be president, and he won't have signed this illusion of the Affordable Care Act." […]
Hmm.  He sounds a lot like Pat McCrory and Thom Tillis did — until the grassroots browbeat them into supporting the refusal of federal money to fund ObamaCare exchanges.
Polling shows North Carolinians vehemently and overwhelmingly opposed to ObamaCare.  It's arguably the biggest threat out there  to our national security.
If you're going to stop this travesty, you have to get it early.  How often does a federally-funded program get killed outright?  We're closing in on the 50th anniversary of the start of The Great Society's "War on Poverty."
The left is working overtime to bankrupt our country fiscally and morally.  If the alleged conservative party and its leaders refuse  to stand up to those efforts and fight them — what are freedom-loving, patriotic Americans to do?  Where can they turn?