Big changes in the air: So long, Sue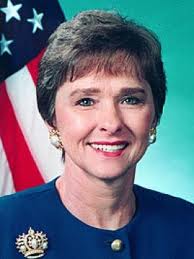 The Charlotte Observer is reporting that U.S. Rep. Sue Myrick (R-Charlotte) will not be seeking reelection in 2012.  Myrick has been a good, solid voice for conservatism in the House.  She will be missed.
Filing for the May primary opens next week, so we will likely start hearing a lot of these types of announcements — giving an "all clear" signal to the next generation.  So far, after the November vote, we will be guaranteed AT LEAST three new faces in the state's congressional delegation.  (Brad Miller in the 13th and Heath Shuler in the 11th have already announced their retirements.)   Retirement announcements are STILL possible from Larry Kissell in the 8th and Mike McIntyre in the 7th.
On the state level, we will be guaranteed a new governor and lieutenant governor, as well as a legislature with half of its members serving either their first or second term.
That's a lot of political change for a state that tends to keep leaders in place.  But change like this is good.  With the economic mess we are mired in, we definitely need new blood with new ideas.