Andrew MURRAY also bad on election integrity
We already told you about soft-on-crime RINO Andrew Murray and his quixotic quest to become the next state attorney general.  (There is also a sneaking suspicion that he may be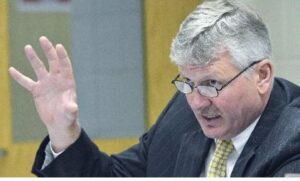 slipped into the 2024 GOP primary for AG in order to sabotage similarly-named but much more conservative Tom Murry.  Murry and Murray.  See what's going on?)
In addition to his botching of the Eric Lindberg bribery case and his close close close CLOSE ties to Mecklenburg Democrats and one Thom Tilli$$$, Andrew Murray has a really bad,  no-good, awful record on election integrity. Here's how the warriors at The Voter Integrity Project told it back in 2017:
Given the track record of Mecklenburg County, District Attorney, Andrew Murray, a public servant who declined to prosecute two of the Voter Integrity Project's fully vetted criminal referrals for interstate double voting, it sickened us to learn of his nomination for the Western District of NC position of US Attorney.

Our battle with DA Murray began after we completed a project called FLANC (Florida and NC). This involved analyzing voter records between the two states to identify any voters with a matching first & last name and who listed common addresses in their file. If any of them voted in both states for the same general election, we turned them over to both Florida and NC election officials.

That first iteration, resulted in five criminal referrals from the NC State BOE to various District Attorneys. After some legal arm twisting, NC's State Board Of Elections revealed the District Attorneys who had received our criminal referrals, but had declined to prosecute the cases, Andrew Murray among them

Later, on a third iteration of our FLANC research, we discovered a way to identify a much larger population of potential double voters. This resulted in another 147 cases of suspected interstate double voting that we turned over to the NC SBOE. […]

Frustrated by our lack of prosecutions, we arranged to meet with DA Murray (see DA Invite) in February of 2015. We had frank and honest discussions about our first criminal referral and also gave him a hard copy of a briefing which contained our supporting documentation for six other suspected double voters cases we had identified to election fraud investigators.

In the meeting, we pressed him to prosecute Ms. Jenkins and any of our other cases; but he refused, citing his inability to prove intent, which is required under NCGS § 163-275. We then argued (unsuccessfully) that proof of the crime would be enough to convince any reasonable jury that the voter intended to commit the crime. He declined again.

Next, we argued that, win or lose, the publicity surrounding the prosecution would be helpful both for deterring similar fraud opportunities and for spurring legislative corrections to the law. This time, he refused in a most annoying way. He talked about the potential for bad media coverage he might get and weighed it against that same statute's extremely low low priority of vote fraud. It's a Class I (as in "below H") felony with a guaranteed of no jail time for first offenders. (Remember: Stealing pine straw in NC is a Class H Felony.)

Next, DA Murray claimed he would be unable to obtain the necessary evidence from Florida. This was an assertion we openly challenged, but he still refused to prosecute. Among our delegation was a retired sworn officer in the SBI with more than 30 years' experience and a retired pharmacist who was very active in local politics. We left the hour-long meeting wrung out and dissatisfied, but decided to hold off (for the time being) the filing of a petition to appoint a Special Prosecutor for these cases, as is our right under NCGS §163-278(28).

After recently learning of DA Murray's nomination to become the US Attorney for NC's Western District, we sought SBOE confirmation on the status of all FLANC cases in his jurisdiction. On Sept 21, 2017 the SBOE confirmed that a total of two cases had been referred to DA Murray, but he again declined to prosecute either of them. Over the phone, the SBOE PIO Patrick Gannon said that "one of them even confessed to the crime, but didn't know it was against the law," so Murray let him off.

The bottom line is that DA Murray declined to prosecute two solid cases of interstate double voting, even though they had been fully vetted by SBOE investigators, working under the leadership of retired FBI Agent, Chuck Stuber.[…]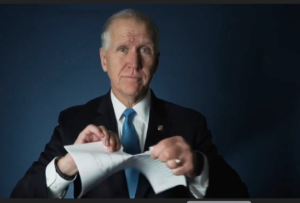 Thom Tillis and the rest of the political establishment will be pleased as punch if ANDREW MURRAY enters the GOP primary for attorney general.  That same crowd will be highly displeased if TOM MURRY gets the GOP nomination.