#Amnesty: "unaccompanied children" continue to be relocated to Carolinas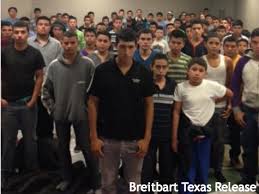 It's fallen off the radar in the drive-by media, but the relocation of "unaccompanied children" border-crashers from Latin America is still going strong. The US Department of Health and Human Services's Office of Refugee Resettlement reports that — from October 2013 to September 2014 — North Carolina got 2064 of these little darlings.  For that same time period, South Carolina got 588 of them.
From October 2014 to February 15, North Carolina got an additional 222 while South Carolina got 90.
In July 2014, the number of little darlings relocated to the Tar Heel State was just under 1200.  South Carolina — at that time — had only received 350.
Durham, Wake and Mecklenburg counties were the big, um, "winners" in the relocation game last year.  From October 2014 to February 2015, Mecklenburg gained an additional 59 little darlings from south of the border.