Why is this man smiling? (Answer: He — um — GOT OFF.)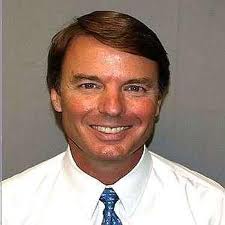 After lengthy deliberations, a federal jury has found former senator (and all-American baby-daddy) John Edwards not guilty on one criminal count, and got hung up on the remaining counts:
The jury in the John Edwards trial on Thursday found the former presidential candidate not guilty on one of six counts in his campaign finance trial and announced it could not agree on the five remaining counts.

Judge Catherine Eagles declared a mistrial on the five counts and dismissed the jurors. It was unclear whether the government will seek another trial.

After the mistrial was declared, Edwards hugged his parents and his daughter, Cate, and members of his legal team in a quiet celebration.

Edwards, speaking outside the court, praised the jurors for taking the time to "reach a fair and just result under the evidence of the law."

"Thank goodness that we live in a country that has the kind of system that we have," he said, his eldest daughter Cate on one side and his parents on the other.

Edwards took responsibility for the events that led to the federal charges. "This is about me," he said. "I want to make sure that everyone hears from me and from my voice. While I do not believe that I did anything illegal or ever thought I was doing anything illegal, I did an awful, awful, awful lot that was wrong, and there is no one else responsible for my sins."

He said he, and he alone, was responsible, that those who testified against him and others were not the ones to be faulted. "I am responsible," he said. "And if I want to find the person who should be held accountable, honestly, I don't have to go any further than the mirror. It is me and me alone."

An outcome in the case began to emerge at at 2:05 p.m. when the jury, in its ninth day of deliberations, sent the judge a not. It said: "We have finished our deliberations and have arrived at a decision on counts one through six."

Eagles initially misinterpreted the note as word of a final verdict, but it soon emerged that the jury's "decision" was that that jurors could not agree on five counts and did unanimously agree on count three. Eagles sent the jury back to deliberate further, but they sent word shortly after 4 p.m. that they could not agree on the five counts.

Edwards was on trial on charges of violating campaign finance laws in his run for the 2008 Democratic presidential nomination.

Count three involves a charge that Edwards received an illegal campaign contributions from Virginia heiress Rachel "Bunny" Mellon. Count three was the considered one that would be difficult to convict Edwards on because the money at issue came well after his campaign had ended.

Edwards, 58, as spent much time since mid-April in a federal courtroom here fighting that charges that could have sent him to prison for five years on each count.

As he entered the courtroom upon the initial announcement of a verdict, Edwards appeared tense. His 30-year-old daughter, Cate, who has accompanied him throughout the trial, touched him on the shoulder and said, "I love you Dad."

When it was clarified that the jurors were agreed on only one count, Edwards' attorney Abbe Lowell rose to say Edwards would accept that verdict, presumably beacause the defense believes it is for acquittal.

Eagles instead asked the jury to resume deliberations on the other counts. But after the jury returned to the jury room. Eagles indicated she will not make them stay long if deadlocked.

"I'm not going to hold them prisoners here," she told the defense lawyers and the prosecutors. .

Edwards was accused of conspiring to secretly obtain more than $900,000 from Mellon and Texas Lawyer Fred Baron to hide his pregnant mistress from the media, hoping to keep his dream alive of becoming the 2008 Democratic presidential candidate.

He was also accused of accepting campaign contributions that were not publicly reported and exceeded legal limits.

The jurors over nearly two weeks of deliberations asked for many exhibits until last week, whenEagles provided them with all — hundreds — to take behind closed doors so they would have them handy if they wanted them.

Before that, the initial questions seemed centered on testimony related to the accusations involving the $725,000 in checks issued by Mellon.

Then toward the end of last week, the questions came for exhibits tied to the testimony about payments made by Baron.

The jurors got the case on May 18 after testimony from 24 witnesses for the prosecution and seven for the defense. There were thousands of exhibits, including a videotaped interview of Edwards in 2008 lying to ABC newscaster Bob Woodruff, falsely claiming not to be the father of his daughter with Hunter.

There were many reminders throughout the trial that jurors were not there to decide whether Edwards had been a philandering husband or a politician with whom they disagreed.

They were there to decide first whether the money from Mellon and Baron were campaign contributions that went unreported and exceeded the legal limits.

If they decided they were they then had to decide whether Edwards knew about the payments and whether he intentionally violated campaign laws that would have required public reporting of the money and caps on how much the campaign could have accepted.

The defense team contended that the government brought an unprecedented case against Edwards.

The argued the Mellon and Baron payments were gifts that went from the billionaires to others, and they were used, in small part, to support Hunter, and in large part to feather the fancy $1.5 million Orange County home of Andrew and Cheri Young, two key witnesses for the prosecution.

The defense made the trial one as much about John Edwards versus his former aide, Andrew Young, as it was about the government versus Edwards.
Former US Attorney — and current GOP nominee for the 13th congressional district seat — George Holding is SO lucky this verdict came down AFTER the primary.  
Holding won the primary in a safe Republican seat.  His campaign focused BIG TIME on his record as a prosecutor — citing his efforts against Mike Easley and Edwards.   Holding got his tenure as USA extended past the end of the Bush era in DC — so that he could wrap up his probe of Edwards and Easley.  Easley was convicted of minor charges and basically got a hand-slap.   Edwards faces NO punishment whatsoever.
From the Robeson County sheriff's department probe, to the Easley investigation, to the Edwards affair,  it's pretty clear to folks familiar with all three that Holding blew slam-dunk opportunities to punish serious political corruption.
Holding's campaign painted him as some kind of superstar crime-fighter, but his record now looks more like one of a mediocre under-achiever.   With that being the case, he'll fit right in on Capitol Hill.