WHO ARE YOU? I'm Bob Etheridge, and I'm BACK !!!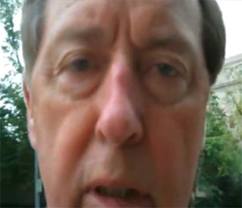 The guy most closely associated with the question "Who Are You?"  — besides Roger Daltrey — appears to be putting out feelers on the question of a congressional comeback:
Former Rep. Bob Etheridge is in Washington today as part of a recruiting class that the Democrats are wooing to run for Congress next year,  according to the National Republican Congressional Committee.

The Democratic Congressional Campaign Committee is holding a day of work shops for 107 prospective candidates from 36 states, the National Journal, a non partisan publication reports. The National Journal did not say that Etheridge was among the recruits, but the Republicans did.

Etheridge was unseated last year by Republican Renee Ellmers. Since then, the legislature has drawn new lines to make the 2nd district more Republican.

Since losing his seat, Etheridge has headed the state's stimulus office and the office in charge of recovery for Hurricane Irene.
This would be quite meaningful for us in Moore County, since will likely be in the 2nd district for the 2012 vote.  I covered politics as a journalist in Harnett County.  Etheridge has a personal following there that transcends party affiliation or ideology or — in some cases — logic.  Quite a few Tea Party and conservative activists have expressed disappointment with Ellmers' performance in Washington thus far.  Reports have come out that Ellmers' fundraising has been weak.  Perhaps that is what is tempting him to try a comeback.
(That may also be what is influencing the two prominent GOPers I've heard are mulling primary challenges to Ellmers in 2012.)