When Dale Folwell says 'Jump!' …
I'm starting to see an interesting pattern here.   State treasurer Dale Folwell  (R) publicly complains about someone or something in the Cooper administration.  A short time later,  Team Cooper responds with an action pretty doggone close to what Folwell wanted fixed.
Folwell publicly cited the NC DOT secretary for mismanagement and demanded his swift departure from the cabinet post.   A short time later, it happened.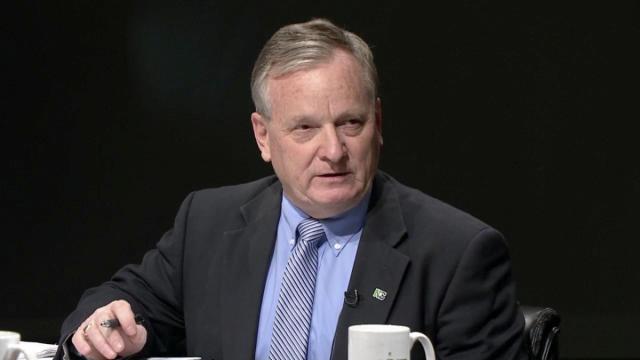 Folwell then upped the ante — calling for the departure of the agency's COO and CFO as well.  This week,  the NC DOT announced the upcoming departure of COO Bobby Lewis.   Today,  the Cooper administration wanted to make sure Folwell got NO CREDIT for Lewis's departure:  
A top executive's departure from the North Carolina Department of Transportation has nothing to do with State Treasurer Dale Folwell's call earlier this month to replace him, a DOT spokesperson said on Thursday.

Chief Operating Officer Bobby Lewis's last day on the job will be Friday, according to the agency.

Lewis submitted his resignation letter on July 6, spokesperson Jamie Kritzer wrote in an email. That was nine days before Folwell announced in a news release he wanted the chief operating officer and chief financial officer removed from their jobs. Folwell cited "continued mismanagement" at the agency. […] 
Folwell issued a release on July 15th calling for the dismissal of the two top DOT officials.   We have no documentation — other than this news story — of a July 9th resignation.   But,  keep reading:
[…] Kritzer said Folwell didn't "communicate with anyone at NCDOT before distributing his news release." Kritzer said Lewis had made "his intentions to return to the private sector clear some time ago."

On July 15, another DOT spokesperson identified Lewis as the chief operating officer. His pending departure wasn't mentioned.[…]
Isn't it kind of pathetic that there's a bigger concern here with ensuring Dale Folwell gets no credit for the personnel change at DOT than with addressing the agency's monstrous financial troubles?