What? Laura Leslie is STILL employed?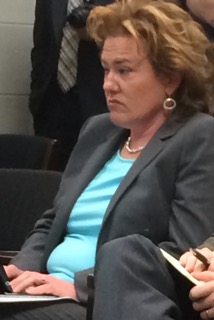 WRAL must be like the government.  You CAN'T get fired.
Miz Laura Leslie became a national laughingstock not too long ago for her outrageously leftist handiwork on Facebook while pretending to be an objective observer of all things political  (see HERE, HERE, HERE, and HERE).   Now, she's taken to trolling Facebook pages of Republican officials.  Mike Causey, the newly elected Insurance Commissioner, was first: 
New North Carolina Insurance Commissioner Mike Causey apologized Monday for sharing a meme on social media this weekend mocking women who took part in the women's march in Washington, D.C.

Millions of people marched in cities nationwide and around the globe Saturday following the inauguration of President Donald Trump to voice support for issues such as immigrant rights, women's rights, health care and the environment – issues they fear are in jeopardy under Trump's administration.

Causey shared a photo on his Facebook page Sunday from someone in Jacksonville, Fla., that showed a street clogged with marchers with the following text overlaying the photo: "In one day, Trump got more fat women out walking than Michelle Obama did in 8 years." He also linked to the post on one of his Twitter accounts.

The Facebook post elicited both support and criticism.

"Was it necessary to call people fat?" Tristan Pan asked.

"Body shaming does not shine a good light on you," Carol Newsome said.

"Obesity is a real problem. Thanks Causey," Sabrina Henne wrote.

"I want to apologize for the insensitive social media post that was shared on Facebook. This represented a momentary lapse in judgment on my part for which I am truly sorry," Causey said in a statement Monday. "This does not reflect my feelings toward women, and in the future, we will manage social media in a more responsible manner."

The post hadn't been removed as of Monday evening.

Causey, who is a Republican, was elected to his first statewide office in November, when he defeated the Democratic incumbent Wayne Goodwin.
Hmmm.  Let's get this straight.  So, Causey HAS to apologize.  *But Miz Leslie and WRAL don't have to say a DAMN thing?*
For what it's worth, Causey IS an elected Republican official and Miz Leslie is allegedly an objective observer and reporter of current events.
Miz Leslie was not done.  She found senator Joyce Krawiec — also, surprise, a Republican — next: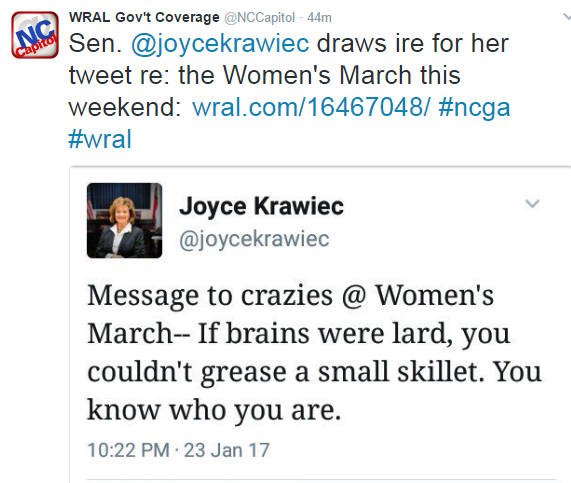 SO, are we going to label Mrs. Krawiec "sexist" too?  (I still don't think either of these is half as bad as Laura Leslie accusing Tea Partiers and Trump supporters of being behind the Orlando gay night club mass murder last year.   It speaks volumes about the lack of integrity at WRAL that she is still allowed to go on air and pontificate politically.)