Walter Dalton loans 'Gunga Din' to Elaine Marshall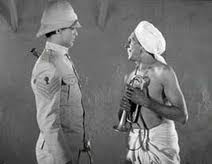 In marking their recent anniversary, the folks at The Ol' Reliable kept talking about how they long ago shirked their role as chief shill and water-carrier for the NC Democrat Party. Well, after reading their election coverage this year, I'd like to offer a hearty  I DON'T THINK SO.
Forty-eight hours after the debate between Occupy Elaine Marshall and her GOP challenger Ed Goodwin, The N&O chimes in with an article on their web site entitled "Video: Secretary of State forum ends with an Occupy attack."
No, that's not the title of a Walton Robinson press release.  THAT my friends is an — ahem — unbiased,objective headline from our state's flagship newspaper:
In case you missed the Secretary of State candidates forum, watch above. There's a few interesting exchanges — including one on lobbying law where Democrat Elaine Marshall wants lobbyists compensation made public but Republican Ed Goodwin says the laws are fine now.

Another interesting bit: toward the end (minute 50) Goodwin drops a bomb against Democrat Elaine Marshall about the Occupy movement. Marshall didn't get to respond — but read more about it here.
 Let me check again.  Nope, Walton Robinson's name is NOT on the byline for this piece.  The N&O is upset about Ed Goodwin's claim in the debate that Elaine Marshall is in bed with the radical leftist Occupy group.   Marshall claimed she is not an Occupy partisan, but merely attended their rally AND a Tea Party rally.  (I am still calling BS on that claim.  Any Tea Partiers out there recall her giving any rousing keynote speeches at Tea Party events?)
Here, let's do The N&O's work for them.  Do a search on YouTube for "Elaine Marshall" and "Occupy Raleigh."   One of your top search results will be THIS charming piece of video.    Listen to Elaine's remarks and then decide whether she sounds like an innocent bystander.
Carolina Journal did a heck of a piece of work rebutting Elaine's denial of Goodwin's Occupy charges:
[…] . Goodwin said people should view a video of Marshall at the event and make their own judgment about it.
"Thanks for being here," Marshall told the crowd in the video from the October 2011 event. "My only question is what took you so long?" 
In another spot she says: "Let's keep marching the streets and showing what we really believe … self-regulatory organizations in the financial world don't work.
"But most importantly, thank you for bringing balance to this debate, this discussion, this energy to put our country back on the right course," she said.
The video was posted on the left-leaning Daily Kos web site by Marshall campaign manager Tiffany Reynolds Richardson.
"There are a lot of politicians trying to cozy up to Occupy Wall Street — but very few are actually hitting the streets to stand with them," Richardson wrote in a commentary accompanying the video. "That's why I'm proud to be working for North Carolina Secretary of State Elaine Marshall — someone who hasn't just embraced the OWS protests, but has actually joined with them on the streets of Raleigh!
"Watch the incredible video of Elaine firing up the #Occupy Raleigh crowd last week," Richardson wrote.
Goodwin is not the first candidate to question Marshall's link to the Occupy movement. Pilot Mountain funeral home executive A.J. Daoud, Goodwin's Republican primary opponent, raised the issue at a meeting of the Surry County Republicans earlier this year to announce his candidacy, according to the Mount Airy News.
"I don't know how you guys feel about it, but it makes me feel sick to my stomach that the secretary of state is being endorsed by Occupy, who harm our police officers and promote violence," the newspaper quoted Daoud as saying. Daoud is a former police officer. […]
Marshall is busted on her Occupy association.  She knows it — as do her accomplices in our state's alleged mainstream media.   Shilling for the radical left is the #1 factor in the slow death of traditional media outlets like MSNBC, The N&O, and our Pulitzer Prize winning paper here in Moore County.   Their circulation and ratings are falling.  Advertising revenue is falling.  People don't appreciate it when you insult their intelligence and basically LIE to them.
Elaine Marshall is a huge failure and incompetent who has survived mainly because of poor candidate recruitment by the NCGOP leadership.  That has changed this year.
She has failed in enforcement of securities laws.  The feds had to come in and bust long-term Ponzi schemes in Lexington and Hickory.  Elaine & co. are still AWOL on the whole stinky situation surrounding treasurer Janet Cowell, financier Erskine Bowles, and the use of taxpayer money to purchase shares in the highly dubious Facebook IPO. Ed Goodwin is a retired federal law enforcement officer.  He knows a few things about throwing the book at bad guys. 
The only way to save Elaine Marshall is to lie about and sugarcoat her résumé and record.   The N&O and the rest of the mainstream media are going to try hard to do that.  Don't let them get away with it.  Elaine Marshall needs to join the thousands upon thousands of North Carolinians standing in line at unemployment offices from Murphy to Manteo.