Walker: BIG MARK knows ALL ABOUT scams
Hark! Is that rough stuff I hear breaking out in the GOP primary for governor?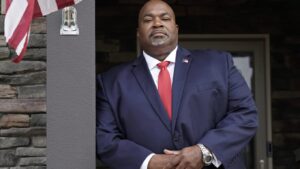 (You know, the contest the GOPe and the useless, lazy drive-by media tell us is already OVER?)
It all appeared to start when WRAL brought to light the fact that Democrat Josh Stein's campaign was apparently scammed.  You have to admit, the attorney general – the guy supposed to be watching out for us – getting scammed is a bit worrisome.
Lt. Gov. Mark Robinson's campaign was quick to get smug about this on Twitter:


Apparently, that was a little tough for former congressman Mark Walker – a GOP candidate for governor as well — to just sit back quietly and accept:
*Ouch.* (And those guys USED to be really good friends.)
Let's not forget that Robinson was delinquent by years on paying property taxes until WRAL reminded him about it.  And let's not forget the whole shady "nutrition" / "family business" that the Robinson family, the GOPe and the drive-by media really don't want to talk about right now.