Virginia Foxx: Give US your genetic info — or else!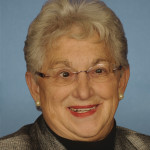 Yet another North Carolina Republican is running at break-neck speed into the stifling, suffocating embrace of the federal leviathan:
[…] A bill in Congress could make it harder for workers to keep employers from getting access to their personal medical and genetic information and raise the financial penalties for those who opt out of workplace wellness programs.

House Republicans are proposing legislation aimed at making it easier for companies to gather genetic data from workers and their families, including their children, when they collect it as part of a voluntary wellness program.

The bill, the Preserving Employee Wellness Programs Act, introduced by Representative Virginia Foxx, a Republican from North Carolina and the chairwoman of the House Committee on Education and the Workforce, would also significantly increase the financial costs faced by someone who does not join a company wellness program.
Wait. So she wants to penalize you for refusing to join a "voluntary program"?
The bill, which is under review by other House committees and has yet to be considered by the Senate, has already provoked fierce opposition from a wide range of consumer, health and privacy advocacy groups, as well as by House Democrats. Critics claim it undermines existing laws aimed at protecting an individual's personal medical information from use by employer and others.[…]
This is ghoulish.  Macabre.  Right out of The Matrix.  But there she is, the Fifth District's very own F-rated "conservative" grandma aiding and abetting some serious intrusion into your personal business.