US Senate 2014: The doctor is IN
"If you want to be represented by a Ted Cruz, Rand Paul, Mike Lee or Jim DeMint type, send me to the US Senate."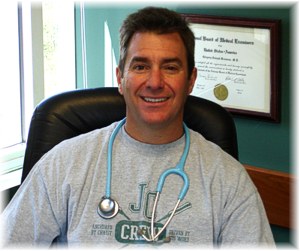 That is the simple explanation Dr. Greg Brannon, a Cary OB-GYN, gives when people ask what they would be getting with a vote for him in the 2014 US Senate race.  Brannon is getting an early start on trying to unseat North Carolina's rookie Democrat senator Kay Hagan.  He realizes he has a long way to go in raising his name ID.  But at this time, in 2007, how many people outside of Greensboro really knew anything about Kay Hagan? 
Brannon has a résumé that sounds like perfection to grassroots activists frustrated with what they see as an out-of-control federal government.   He's never run for or held political office.  One of two sons raised by a single mother,  he worked his way through school and established what has become a successful medical practice.  He's a self-described "born-again Christian" who has participated in medical missions to Africa and China. ( He opposes same-sex marriage and is unabashedly pro-life. )
Brannon and his wife have seven children — three of whom were adopted from China.
He's a self-taught constitutional scholar who can quote verbatim from our Founding Documents.  Brannon says those documents will form the basis of his decision-making process in the Senate:
"If it's not enumerated in The Constitution, the federal government has no business being in that business.  Plain and simple."
Brannon says he — like many Americans – has grown frustrated watching Congress ignore the specifics in The Constitution while pushing the country deeper into debt.  As a practicing physician, he's seen first-hand the problems that government meddling has caused the nation's health care system.  Brannon says ObamaCare, in its early stages, is already creating more problems than it's solving.
The Republican has a pretty clear philosophy on foreign policy and the use of the military:
"I want to have the strongest, most impressive, most powerful military possible that, hopefully, never has to be used.  If you're the biggest, toughest guy on the block, people will tend to respect you and leave you alone. "
Brannon says that — if a credible need for military action arises — Congress should follow the specifics set out in The Constitution:
"Congress should take up the matter and declare war.  Once the declaration of war is made, the politicians need to step back and turn things over to the admirals and the generals, letting them do whatever they need to do to finish things as quickly as possible and come home victorious."
Brannon says he is encouraged by the high level of interest shown his campaign by Tea Party-affiliated leaders and organizations across the state and the nation.  His campaign has retained the services of  consultants and managers who have been successful in electing constitutional conservatives on the national level.