'Tricky Dick' Burr: Trump 'misguided'
*Oof.*  It appears our US senators are in a race to see who can infuriate the biggest chunk of the GOP base back home.  Here's Richard Burr — who, I'm told, played football at Wake Forest sans helmet — being passed the baton by his partner-in-selling-out, Thom Thilli$$$: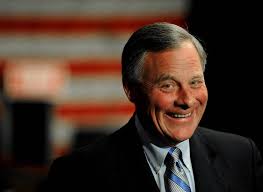 […] SENATOR BURR IS NOT AS CRITICAL OF THE PRESIDENT AS SOME OF HIS FELLOW REPUBLICANS.HE SAYS THE U.S. SHOULD NOT HAVE TO PUT UP WITH WHITE SUPREMACISTS, OR ANY GROUP WHOSE SOLE INTENT IS TO CREATE CONFLICT.WE SPECIFICALLY ASKED HIM ABOUT THE PRESIDENT'S COMMENTS, HIS LATEST COMMENTS, ON THE CHARLOTTESVILLE PROTEST.

SEN. BURR: I THINK THE PRESIDENT IS MISGUIDED.I THINK THE COMMANDER-IN-CHIEF SHOULD BE VERY SPECIFIC ABOUT OUR WAY FORWARD, NOT EMBRACING WHAT THEY DID OR WHO DID IT AT ALL.I DISAGREE WITH HIM ON THAT [...]
What's got the Tricky One so bent out of shape?  Trump's comments on radicals from all ends of the political spectrum being the problem.
Well, for what it's worth, Burr has the enthusiastic support of the Congressional Black Caucus.