A REAL inconvenient truth: Driveby poll shows most Americans want Confederate statues left alone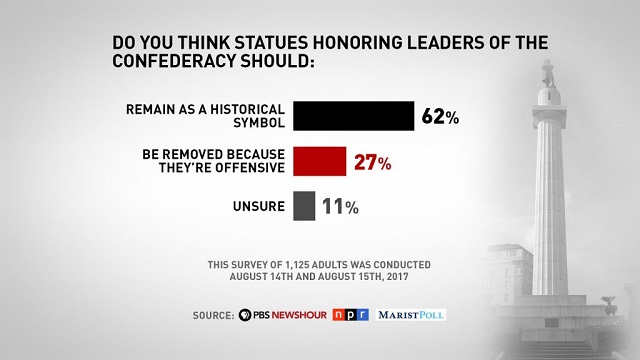 Behind all of the frothing-at-the-mouth race-baiters and whimpering snowflakes the drivebys are peppering us with, there is ACTUALLY some truth:
A new poll from PBS has found the majority of Americans of all races believe statues honoring the leaders of the confederacy should remain and only a small minority believes they should be taken down.

PBS News reports:

[T]he poll found that 62 percent of Americans believe Confederate statues should remain in place as historical symbols.

Republicans were twice as likely as Democrats to say they supported keeping statues that honor Confederate leaders. Two-thirds of whites and Latinos said these statues should not be removed. African-American respondents were split, with 44 percent saying the statues should remain in place, and another 40 percent saying they need to be removed because some people find them offensive.[…]

Even in majority-minority, majority-Democrat Robeson County, the whole Confederate statue "controversy" is being met mostly with either indifference or outright support for preserving history.