Tillis & Rucho: Pre-K $$$ BAD. $$$ for Panthers, Red Line GOOD.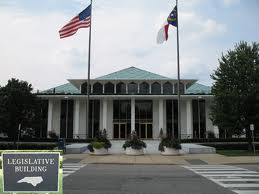 It's quite a rarity to find myself agreeing with Chris Fitzsimon.  But I'm in one of those moments.  (What's next? Cats and dogs living together?)
One of Chris's latest posts tackles the events on Jones Street — naturally — from the left, but does raise a real interesting point:
[…] McCrory has weighed in with a bewildering answer to an interesting issue brewing in his hometown. Officials with the Charlotte Panthers appear to be looking for state support for renovations to their stadium.

The Charlotte Business Journal reports that McCrory was asked about state funding for the renovations are a recent event in Charlotte and said "I have no idea. No one's approached me." Surely McCrory has an idea about whether or not he would support spending state taxpayer money on a football stadium in his hometown.

Two powerful legislative leaders from the Charlotte area, House Speaker Thom Tillis and Senate Finance Chair Bob Rucho, have indicated they do support using state money to upgrade the stadium. That's an odd position for two alleged stalwarts of fiscal conservatism who were recently troubled by the recent decision by Governor Bev Perdue to expand slots in NC PreK for at-risk four year olds.

At least Tillis and Rucho have their priorities straight. […]
(For the record, I am against spending money on ALL OF THAT.)   In my day, preK was called "nursery school."   An awful lot of folks have grown up and moved on to happy, productive, law-abiding lives without the benefit of government-funded nursery school.
Rucho and Tillis are also apparently working quietly to get funding for the controversial Red Line project.  It's got a $452 million price tag and has been roundly denounced as a fiscal and operational disaster.  But some big donors in the Charlotte area want it, and we know how loud campaign contributions talk.
The Carolina Panthers are a multi-multi-multi-million (maybe BILLION) dollar enterprise.  Most all of their employees are pulling in  six and seven figures a year.  The team is stinking up the NFL, and there are A LOT of empty seats at their stadium on Sundays.  Why not pass the collection plate around the office and the locker-room — instead of hitting up the taxpayers of North Carolina who are rocked by record unemployment and already being bled dry?  With the tax brackets in the Panther organization, I would think you could raise the project funding quite easily. 
Republicans in DC and Raleigh appear to be having an identity crisis.  They were awarded majorities in 2010 and 2012 by voters seeking some fiscal sanity in government.  It wasn't about simply putting a new set of grubby hands in the state's cash tillers.
Our priorities in North Carolina should  include (1) tax relief, (2) paying off debt, and (3) shrinking and reforming government to encourage business growth and enterpreneurial expansion.  There's nothing in that list about government-funded nursery school, wasteful light rail projects, or taxpayer funds for under-achieving multi-millionaire football players.