Tillis: question is NOT whether to implement ObamaCare, but HOW to do it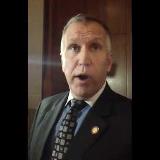 It appears the "conservative revolution" in Raleigh is NOT going to follow the lead of South Carolina, Virginia, Tennessee and 24 other U.S. states in fighting the implementation of ObamaCare at the state level.  Experts have determined that enough states refusing to set up health care exchanges would delay / cripple the impending economic disaster known affectionately as ObamaCare.  
Before leaving office, Gov. Bev requested money from the federal government to aid North Carolina in the establishment of a state-level health care exchange. Well, the money has arrived in Raleigh.  Grassroots activists are encouraging Gov. Pat and the GOP majority in the General Assembly to block the establishment of the exchanges by citing the 10th amendment to the US Constitution.
Gov. Pat has described ObamaCare as "the law of the land" that needs to be acted on.  House Speaker Thom Tillis, earlier this week, spoke to a group of business leaders here in Moore County.  He took questions on a lot of issues, including the thorny subject of health care exchanges and ObamaCare.   A friend of this site was in the room, and offered up this report on Tillis's ObamaCare comments:
"He said he understood that a lot of people have concerns about the health care exchanges and want state leaders to fight them.  He told us about his business experience, and that of a lot of the GOP leaders in the legislature.  He said he and his team will look at the health care exchanges — from a business-like point of view — and try to determine the best, most sensible way to put them into place."
So, it appears the GOP establishment has tossed the concept of limited government out the window, and has decided to cling tightly to the concept of "managing" the welfare state more efficiently than the Democrats.   It's clear that those of us who clearly see and understand the threat ObamaCare poses to our economy and our country need to put some serious heat on these politicians.  Call them.  Email them.  Buttonhole them.  Get in their faces.  Explain to them that they are replaceable.