Tillis leads effort to keep crony capitalist Ex-Im Bank alive & kicking
The Ex-Im Bank guarantees loans to foreigners so they can purportedly buy US-made goods.  (Though, how much is actually MADE here anymore?)  Conservatives cry foul over the continued existence of the bank, calling it the ultimate  in "crony capitalism."    The "bank" is less likely to be benefiting the little mom-and-pop eBay based business in the US than it is the Fortune 500 company with armies of lobbyists lining politician pockets.
[…]SENATORS TRY FOR EX-IM BANK RENEWAL: Kevin Cramer (R-N.D.) and Kyrsten Sinema (D-Ariz.) are offering the Senate's first major proposal for reauthorizing the trade finance agency before its charter expires in September, Pro Financial Services' Zach Warmbrodt reports.

The effort comes after House Financial Services Chairwoman Maxine Waters (D-Calif.) shelved bipartisan legislation she worked on with ranking member Patrick McHenry (R-N.C.) to reauthorize and revamp the bank, which provides loan guarantees to foreign buyers of U.S. goods. That bill sparked political backlash over proposed restrictions on sales to Chinese state-owned firms.[…]
Maxine Waters AND Patrick McHenry!  The NCGOPe AND the 10th district should be beaming with pride over their little man's cooperation with that crazy little woman. 
MORE:
[…]Good news for Ex-Im backers? Cramer and Sinema's bill could be more amenable as it's narrower in focus. The bill would give the bank a 10-year extension and raise the bank's financial exposure cap to $175 billion over seven years. It would also create a temporary board to lead the agency if the Senate refuses to confirm board members necessary to approve large transactions.

Who's backing it: Thom Tillis (R-N.C.); Maria Cantwell (D-Wash.); Patty Murray (D-Wash.); and Lindsey Graham (R-S.C.) are co-sponsors. Cramer, Sinema and Tillis are all members of the Senate Banking Committee, which has jurisdiction over Ex-Im.

Lawmakers are pressing up against the clock to reauthorize the bank, which only recently returned to full operation after being unable to approve deals worth more than $10 million for the past four years.[…]
The Ex-Im Bank has been a huge target of the Tea Party since 2009.  It's like one of those ax murderers in those series of horror movies.  You can't kill it off.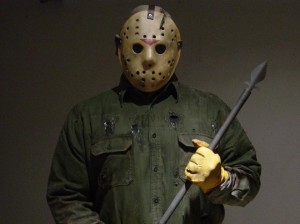 Sadly, the Trump White House is FOR this. Therefore, it is yet another instance where I must respectfully disagree with them.  There is all kinds of quality ammo out there — like HERE and HERE and HERE —  to mark Ex-Im for what it is.  Crony Capitalism benefiting the international business elite at our expense.