NC SPIN cut by UNC-TV (Grandpa Tom sees black helicopters, hidden hand of Harry Smith)
Tom Campbell needs to wake up and smell the coffee.  He has been the face of a product that few people have wanted, and has been living on borrowed time.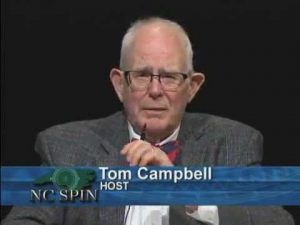 The show was being propped up by advertising provided by the NCSU office supervised  by Tom's son.   The "tell us something we don't know" segment at the end of each show was full of stuff I heard two or three weeks ago.  (I would occasionally catch the show on YouTube on a  slow weekend.)
The "balanced debate" we were promised usually included a confused, doddering former Democrat  legislator (Joe Mavretic), John Hood, and / or one of his fellow Pope mafioso on the right.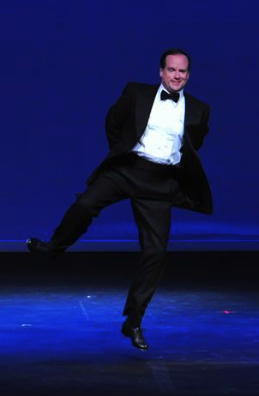 The "left" was represented usually by Chris Fitzsimon & Rob Schofield (when their shoot schedule for Sesame Street left them some free time), and / or Harlan Boyles's widow and / or Mr. Boyles's former executive assistant.  (Tom used to work for the late Democrat state treasurer.)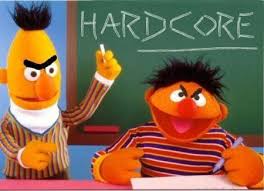 As you can see, Campbell wasn't offering us much.  Instead of bowing out gracefully, Grandpa Tom decided to go the black helicopters route:
After almost 22 years on the air, the political debate show "NC Spin" will end on UNC-TV after its contract is up this year.

Tom Campbell, the show's founder and host, told The News & Observer this week that he learned of the decision in an email from UNC-TV's interim director Kevin Fitzgerald last Friday.

Campbell thinks the show was essentially canceled because it had been critical of the UNC Board of Governors and its treatment of former UNC System presidents Tom Ross and Margaret Spellings, former UNC-Chapel Hill chancellor Carol Folt and former East Carolina University chancellor Cecil Staton.

"I would hesitate to speculate," Campbell said, "but I've heard we have been the subject of conversations with board members."

"NC Spin" ran from 1998 to 2017 on WRAL and since then has aired on UNC-TV. The show — with the motto "Balanced debate for the Old North State" — features four panelists and Campbell discussing political and public affairs topics. Campbell, who describes himself as a political "moderate," said he always has two conservative panelists and two moderate or liberal panelists on each show, to keep viewpoints balanced.

"In two years I had not heard any complaints coming from the management of the UNC public TV network or the general administration of the university — no criticism," Campbell said. "I had not heard anything about anyone being dissatisfied with anything we've done."[…]
Insiders have told me the ratings have been in the toilet for MONTHS upon MONTHS now.  And a major part of the agreement to come over to UNC-TV was for NC-SPIN to be relatively self-sustaining.
[…]SHOW HAS BEEN CRITICAL OF UNC BOARD OF GOVERNORS

Campbell said the show had "not been kind" to the Board of Governors for the way it had treated the education leaders.

In the Jan. 18, 2019 episode of "NC Spin," Campbell and panelists Chris Fitzsimon, Anna Beavon Gravely, Brad Crone and John Hood discussed Spellings' pending departure as system president.

They also noted that the UNC Board of Governors "met for three hours behind closed doors to discuss personnel matters." During that meeting, Folt publicly announced her resignation, saying she would remove the rest of the controversial Silent Sam Confederate monument on the Chapel Hill campus immediately.

"The Board of Governors was obviously miffed to learn about this resignation like the rest of us," Campbell said on the show. The panel then went on to evaluate Spellings' time as president and her conflicts with the board.[…]
But HOW do you explain that the show also got run off and cancelled by ultra-liberal WRAL?  WRAL isn't exactly a political arm of the GOP controlled UNC board of governors.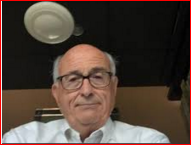 MORE:
[…] At one point, Fitzsimon referenced two members of the board (not by name) with what he described as conflicts of interest and said, "This is the least-examined powerful board in North Carolina and if anything comes out of this I hope it's more scrutiny on who these people are, how they get elected and what their possible conflicts are."

Crone called the board's behavior in asking Folt to leave at the end of January instead of after graduation, "petty." The conversation lasts for about 10 minutes — and it's not the only example of episodes with conversation critical of the board.

Campbell also penned a column that appeared on the NCSpin.com website on March 28, 2019, expressing concern over the politicization of the UNC System.

RESPONSE FROM UNC-TV

Fitzgerald, the interim executive director and general manager of UNC-TV, told The News & Observer on Friday that the show hasn't been canceled but that "the decision has been made not to renew the contract," which is up at the end of 2019.

"It was a programming decision," Fitzgerald said.

"We have a contract in place with them that's on a year-by-year basis and goes to the end of the year. They have a contract through December," he said. "But the show goes on and the contract is in place until the end of the year."

Fitzgerald said the contract was recently reviewed but that it was not a formal review, instead describing it as "an overall decision that was made."

Fitzgerald said he made the decision about the show's contract "in conjunction with my colleagues. … I would say that I take that responsibility. I'm the one who signed the letter."

When asked whether ratings data is used in making programming decisions, Fitzgerald said, "There are a number of factors that go into that. That's part of it. Also we have a new head of UNC-TV coming in, so we're looking at our overall programming. There are a number of factors."

Former UNC School of the Arts chancellor Lindsey Beirman starts as UNC-TV's new chief executive officer on Aug. 12.

As for whether the Board of Governors had complained to officials at UNC-TV about "NC Spin," Fitzgerald said: "We have heard some concerns, but that did not enter into this decision."

UNC-TV currently airs one other show that includes political commentary, "Front Row," hosted by Mark Rotterman. Fitzgerald said that show is "also being looked at." He also stated that the public TV network is in the process of looking at all shows, but that he could not comment on other shows at this time.
Rotterman's show is not much better than Tom's.   It deals waaaaaaaaaaay too much with DC.  And we get enough of that already with Fox News Sunday, Face The Nation, Meet The Press, et cetera.
MORE:
[…] Season 22 of "NC Spin" is set to premiere on Sept. 8 on UNC-TV.

Campbell said he doesn't believe the decision came from Fitzgerald, but that Fitzgerald is taking responsibility because he's the current UNC-TV leader. He believes there was pressure from the Board of Governors and said he considers it to be a First Amendment censorship issue.

"If they had a legitimate reason for wanting to do this and I knew they were doing this with other public affairs shows, I might be willing to accept this," Campbell said. "But I'm not going to be bullied. I'm not going to be censored, and I'm not going to sit down for this. As I told (Fitzgerald), 'I will not go quietly into that good night.'"
I'm not a fan of the idea of UNC-TV even existing in this digital day and age. You can get anything you want broadcast out to your audience pretty easily these days.   Rush Limbaugh makes gazillions without needing a dime from public television or radio,  If you've got a product people want, they'll come running to it.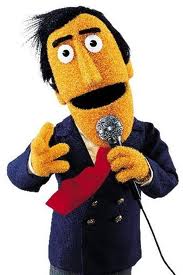 If Tom really thinks North Carolina WANTS NC-SPIN, he and his panel should continue shooting it weekly from his garage and post the shows on YouTube.