Thom Tillis: the, um, OUTSIDER ???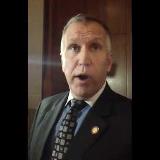 I had to replay THIS radio interview state House speaker Thom Tillis did with a Wilmington radio station to make sure I heard it right.  Tillis laughs off assertions that he is the ESTABLISHMENT candidate in the GOP primary field for US Senate — insisting that he has a track record of FIGHTING the establishment.  Seriously.  
*How on Earth could you label someone trolling DC lobbyist offices  for cash while hugged up to Karl Rove as ESTABLISHMENT?*
In the interview, Tillis points out that just eight years ago, he was a PTA president.  And look at him now.  Thom and the host left out a lot of detail, like: (1) Tillis's tenure on various local government boards in Mecklenburg, (2) his tenure on the Cornelius Board of Commissioners  (3) his tenure as NC House Minority Whip and (4) his chairmanship of the House Republican Campaign Committee. The interview also glosses over the fact that Tillis primaried — at the behest of Jim Black and Richard Morgan — outspoken conservative GOP legislator (and bona fide anti-establishment type) John Rhodes.  Rhodes was instrumental in pointing out malfeasance / monkey business perpetrated by then-Speaker Jim Black and his co-conspirator Richard Morgan.  (Black ended up going to jail.  Morgan got knocked out of the legislature by a conservative primary challenger.)  The Tillis campaign defended Black's efforts in Raleigh during the campaign against Rhodes. 
Can't you just feel the anti-establishmentarianism?