Tholl roads. Thime Warner. Thom Tillis. (THROUBLE ???)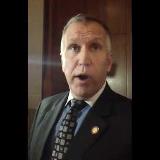 Big Barry in DC and Speaker Thom are getting a real taste of what Tricky Dick Nixon went through in 1974. * It sure blows when people start raising a stink about your heavy-handed iron-fisted management style. *
For some reason, Speaker Thom and his Cornelius cronies are working overtime to shove toll roads down the throats of the people in Mecklenburg County.  Something sure changed ol' Thom's mind since last year — when he was filmed making THESE anti-toll statements.    Instead of listening to his constituents' concerns about the proposed tolls, Speaker Thom and his crew have worked hard to shut them up and shut them out.
Tillis put the word out that the decision on tolls would be left up to a regional organization called MUMPO — which just happens to be stacked with Tillis cronies from the Cornelius area.  Wednesday night, MUMPO rammed through approval of the toll roads over the loud objections of local residents.
Theam Tillis also pushed through a bill allowing tolls on I-95, and worked hard to kill an amendment forcing the House to vote on implementation of ANY new toll roads.
Also, this week, we had ANOTHER GOP legislator publicly criticize the Tillis regime on Jones Street.  State Rep. Larry Pittman (R-Cabarrus) first made headlines a few weeks ago with an on-camera critique of Tillis's management of the state House.  A short time later, Pittman issued a statement apologizing for the manner in which he made the remarks — but not for the substance of the remarks.  Even though Pittman issued the apology, Theam Tillis is aggressively promoting a GOP primary challenger to Pittman for 2014.
Now comes state Rep. Bob Brawley (R-Iredell), chairman of the House Finance Committee.  Brawley made headlines for publicly criticizing the toll road plan for I-77 being promoted by Theam Tillis.   Then, Brawley has the *gall* to issue a letter criticizing The Supreme Leader and his management of the House:
One of the chairs of the House Finance Committee resigned his chairmanship on the House floor Wednesday, alleging that Speaker Thom Tillis has mishandled legislation and aggressively confronted him on a bill the speaker personally opposed.

Rep. Robert Brawley, R-Iredell, also accused Tillis of going back on previous opposition to toll roads and killing a de-annexation bill in the Troutman community "under the pretense we do not want to create conflicts with towns" while cutting into local control of the state's western water system. Brawley's resignation follows a public outcry last month from Rep. Larry Pittman, R-Cabarrus, who said Tillis had held up his bills on guns and religion.

Brawley, in his tenth term after a 13-year hiatus, said he'll stay on as a representative but was forced by Tillis to resign as a chairman because he publicly accused the speaker of having ties with tolling companies. The House recently passed a bill opening the door for new toll roads if the state also maintains the same number of free lanes that were previously available.

Tillis spokesman Jordan Shaw said the decision for Brawley to relinquish his leadership post was mutual but wouldn't point to specific reasons why the speaker wanted him to do so.

"I think it's just a reflection of several different things," he said.

Shaw said Brawley won't likely be replaced at this point in the legislative session. He was one of two chairmen and a senior chairman.

Brawley also claimed Tillis slammed his office door and demanded to know about a bill he sponsored this session carving out exemptions from a 2011 law that limited local governments' ability to set up public broadband networks. The law's passage was seen as a major victory for Time Warner Cable, which Brawley accused Tillis of representing when he entered his office.

"You and I both know the bill stifles the competition with (locally owned provider) MI Connections in Mooresville," Brawley wrote in his letter. "MI Connections is being operated just as any other free enterprise system and should be allowed to do so without the restrictions placed on them by the proponents of Time Warner."

Brawley's bill was filed in April but hasn't moved through any committees. A deadline requiring any bills that don't raise money or taxes to clear at least one chamber expired last week.

Shaw said he doesn't know of any business relationship between Tillis and Time Warner. A regional Time-Warner spokesman said Tillis has no ties to the company.

Brawley also criticized Tillis' handling of a 2012 bill making the N.C. Bail Agents Association the only group allowed to provide training to licensed bondsmen. He called it a "monopoly" benefiting the family of Rep. Justin Burr, R-Stanly and a bail bondsman whose father is president of the association. A Superior Court judge in Raleigh issued an injunction delaying the bill last year.

"The bill never should've come up to start with," Brawley said. "It's been struck down. I've tried twice to simply quietly get it done, get rid of it so we don't have a monopoly."

Shaw said it's not fair to draw a broader connection between criticisms from Brawley and Pittman that House leadership is stifling their voices.

"We have 77 people in our caucus," he said. "It's pretty clear we're going to have a difference of opinion occasionally."
I am not going to cry a lot of tears for these GOP legislators.  They knew that Tillis was like this going into the 2011 session.  They voted him in as speaker.  He had a track record from 2011-2012, and they unanimously re-elected him.   THIS web site heard a lot of off-the-record and on-background trash-talking, from folks who have a vote within the GOP House caucus, about how we could stick a fork in Thom Tillis — he's done.    When it came time to vote for House leadership, an awful lot of spines turned to linguini, and Thom Theriffic was back in the saddle again.
I have to say that Pittman and Brawley are profiles in courage among a caucus of wusses.  Instead of examining the concerns the two brought up, their colleagues bashed them for making the party and Speaker Thom look bad.   (It's sad that our mainstream media focuses more on an apparent personal conflict than on whether Speaker Thom has a business relationship with Time Warner, and what  — if anything – -that relationship is.) 
An awful lot of this stuff leaking out sounds like deja vu all over again — a rerun of the Black, Morgan, Basnight, Rand era. There is an awful lot of political posturing and positioning for future elections.  (For what it's worth, PPP's latest poll shows ol' Thom  [5 percent] polling behind Dr. Greg Brannon [6 percent]  and just ahead of former Charlotte mayor pro tem Lynn Wheeler [3 percent] in the 2014 US Senate GOP primary.)   With Tillis, we are seeing what the House would have been like if Richard Morgan and Jim Black were smarter and smoother. 
It's not about the Republican Party.  It's about saving our state and our country.  If your top concern is making yourself or the GOP look good to McClatchy and WRAL and their low-information readers and viewers, YOU NEED TO GO.