The Two Faces of Greg Murphy
I was around for Greg Murphy's 2019 election to the US House.    He had been somewhat of a squishy moderate in the North Carolina House.  But Murphy AND his team reassured us all that Murphy would stand strong in DC on three things:   Supporting Donald Trump, The Freedom Caucus, and Draining The Swamp.  A lot of nervous conservatives held their noses and voted for (and donated to) Murphy because he promised to back those three things.
One term in, and we can't see any evidence that Greg Murphy has done,  or plans to do,  ANYTHING he promised on the campaign trail.  His first betrayal came at the expense of The House Freedom Caucus.  Jim Jordan (R-OH) and Mark Meadows came to the district personally to campaign for Murphy.  They helped him obtain much needed cash to keep pace with the $$$$$ House Republican leader Kevin McCarthy was funneling to Murphy's runoff opponent Joan Perry.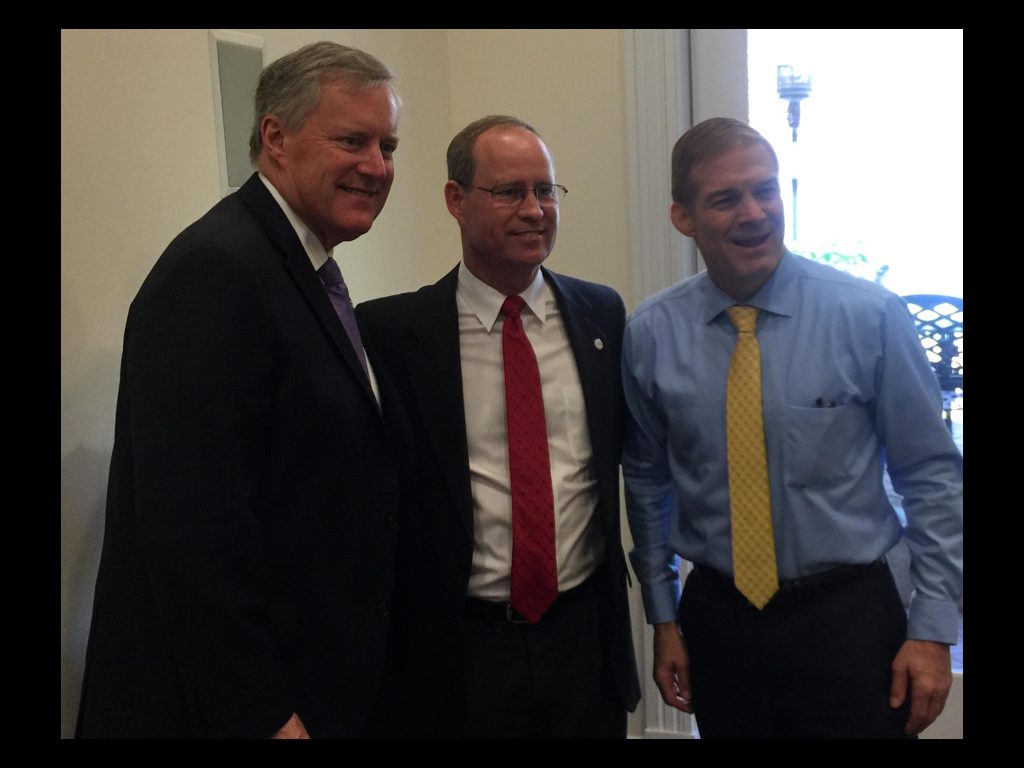 How did Murphy "thank" the Freedom Caucus for their valuable help in the runoff?  He ditched The Freedom Caucus after arriving in Washington and began brown-nosing McCarthy — the man who campaigned hard and raised money against him.
One of Murphy's first votes in DC was for Kevin McCarthy for speaker:
"Today, I proudly voted for my friend Kevin McCarthy for Speaker of the House," said Murphy. "He stands for representing all the different constituencies of the People's House."
That's right.  His "good friend" who tried to chop his legs off during the 3rd district runoff.
McCarthy helped raise over 100k for Joan Perry in her primary race against Murphy.  The House GOP leader spilled the beans in a June 2019 issue of Roll Call:
[…] And even though the National Republican Congressional Committee has a policy of not playing in primaries, party leadership seems to be thinking differently about this race.

"We have this mindset, 'Oh, I don't want to play in primaries.' You don't want to play primaries, you're not going to change the course of history," House Minority Leader Kevin McCarthy said last week at a reception held by Winning for Women in Washington, where the GOP outside group rolled out its goal of electing 20 women in 2020.[…] 
DC sources confirm for us that Murphy distanced himself from The Freedom Caucus not long after he arrived in DC.   He began raising money for the RNC — the same crowd that tried to "kill" him in the primary.  His campaign reports offer no evidence of ANY fundraising to benefit The Freedom Caucus.
And now for his "support" of the president — who was KEY to getting Murphy elected.  When he's around his new GOPe friends, Murphy can't wait to trash President Trump and express his total disgust.  His tone changes when  he gets around constituents.
This morning he was on WTIB's Henry Hinton radio show.
In the 21 minute interview with Hinton, Murphy used President Trump's name ONCE, in passing about Democrats opposition to the President:
"The Democrats have objected to every single republican president in the last 20 years.

They objected to Bush in 2000 and 2004 and they objected to ah, ah, ah ,Trump in 2016 ."
Here is a link to one of Murphy's campaign ads from the 2019 Republican primary.  In 30 seconds President Trump is mentioned 3 times, Trump's name appears on the screen 3 times and a picture of Trump is on the screen as well.  That's 7 references to Trump in 30 second, but ONE in passing in 21 minutes this morning.   Things sure have changed.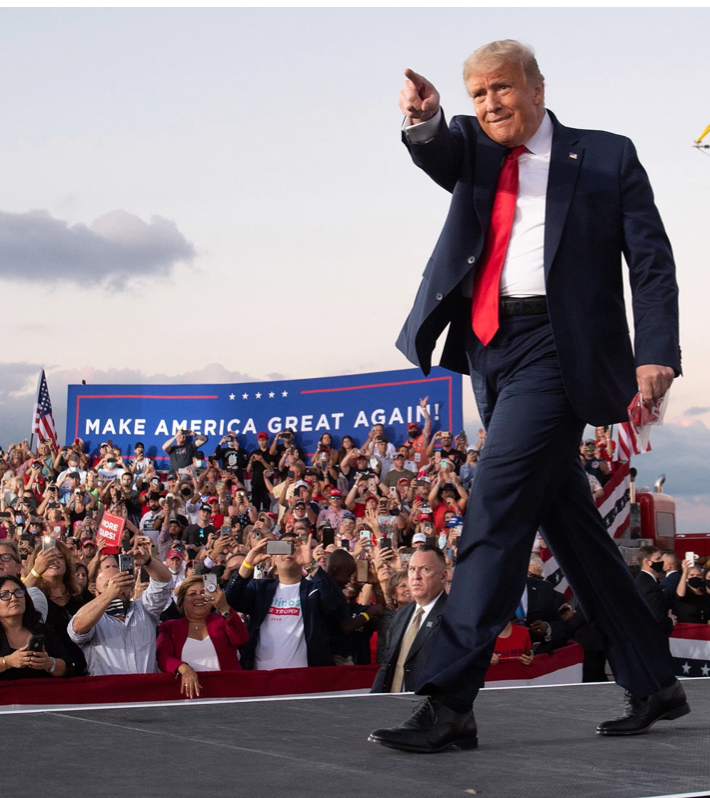 On Hinton's show,  Murphy said that he had "gone back and forth" on the issue and he had been "tortured by the decision".  But after much thought and study, he had decided that the would vote against supporting the Electoral College results of a few states.  The problem is he gave reasons that have nothing to do with supporting President Trump. 
He talks about voting laws that weren't followed.  Donald Trump and conservatives have been screaming about this since the late summer when Democrats began changing the election rules.  (A little late to the game, Dr. Murphy.)
Then he said he took a poll of his constituents and they wanted him to object .  Took a poll?
Did he take a poll on whether to support Kevin McCarthy for Speaker?
And what was the purpose of taking the poll?  I think local party leaders made their sentiments pretty clear some days ago.
What Murphy did is gave the rationale he used do appease his strong Pro-Trump district and still save some face with his country club friends and DC Swamp buddies.  
Murphy posted THIS to defend his position for Wednesday in the House: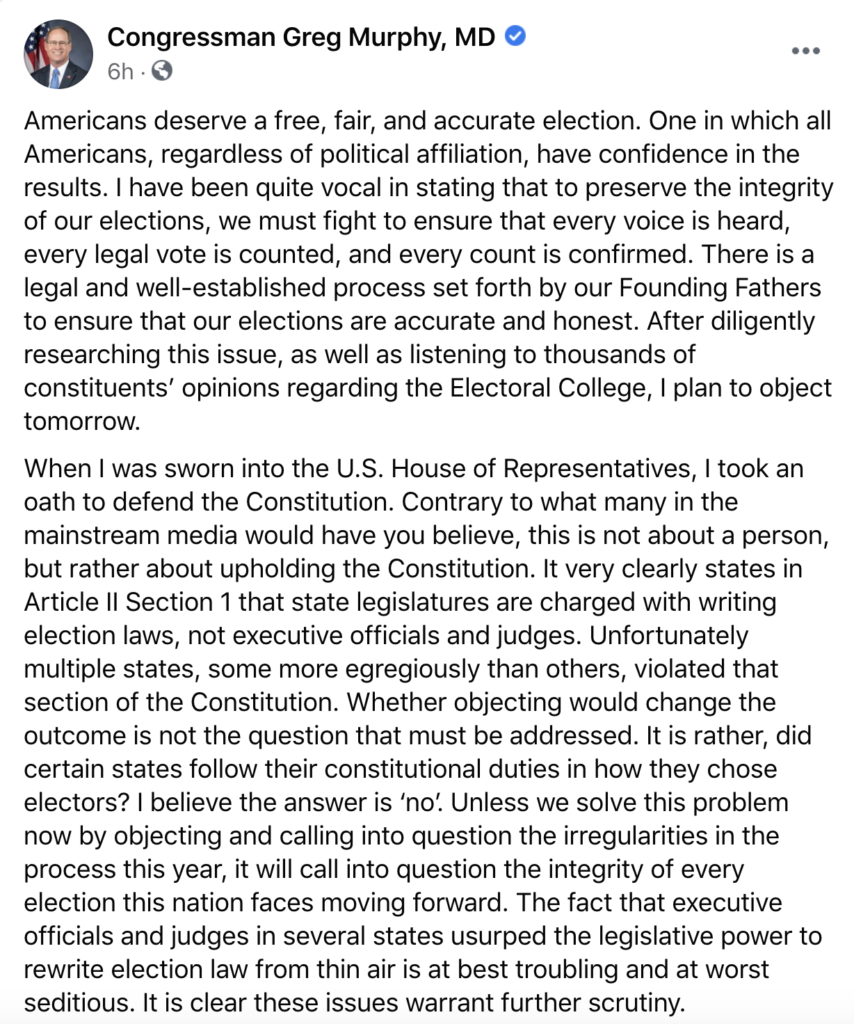 Not ONE word about Donald Trump.  It looks like some attorney on Kevin McCarthy's staff wrote it for him.  At best, you could call it a lukewarm, limp bit of pretend-cheerleading for The President.
So, let's review.  During the campaign,  we got promises of. Murphy signing on with The Freedom Caucus.  Yet,  he gets to DC and runs to the waiting embrace of the leadership swamp-rats who helped his primary opponent. We heard Murphy was going to join Meadows and Jim Jordan in aiding President Trump.  Instead,  Murphy ignored all that and surgically melded himself to McCarthy.  And "Draining The Swamp"????    Let's look at all the lobbyist- and leadership-supplied show tickets, shopping sprees, and fancy hotels that show up on Murphy's finance records.
It looks and sounds like Greg Murphy is having A BALL in The Swamp.