The Tillis Technique: (1) Go with what Pat says. (2) If people holler, change your story.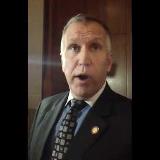 An aide to Speaker Tillis has finally responded — kinda —  to Don Reid's query about voter ID:
From: Joe Nolan (Speaker Tillis' Office) [mailto:Joe.Nolan@ncleg.net] On Behalf Of Rep. Thom Tillis (Speaker)
Sent: Wednesday, January 30, 2013 2:46 PM
To: 'Don Reid'
Subject: RE: Voter ID

Don,

Hope this email finds you well – if you look to the Speaker's press conference yesterday, you'll find he supports a photo ID.

Please let me know if you need anything else in the meantime.

Regards,

Joe Nolan

Deputy Chief of Staff

Speaker Thom Tillis

North Carolina House of Representatives
So, let's tally up the twisting, turning and flip-flopping:  Voter ID, the income tax, ObamaCare, Racial Justice Act ….
It's now becoming clear how to deal with Speaker Thom.  If he goes on the record about something, it will be a moderate-to-liberal position.  All it takes to get him back in the right direction is to basically bird-dog him, get in his face and tear him a new one.  He's shown that he'll cave quickly.  It's a shame we have to do that in a GOP-controlled state capital.