The political class CANNOT police itself.
The state board of elections says its A-OK for Democrats on local boards (like inRobeson and Bladen counties)  to donate to Democratic candidates and campaign for (and with) them.  Substantial pay-to-play allegations against powerful Republican legislators (like David Lewis) disappear into a black hole never to be seen or heard from again.
The latest scalawag to get off scot-free is senator Bob Steinburg:
A state panel has dismissed a complaint that state Sen. Bob Steinburg, R-Chowan, violated state ethics rules when his sports marketing company signed a $50,000 contract with Currituck County last year to facilitate the county's sponsorship of a college basketball tournament.

The N.C. Ethics Commission also ruled Tuesday, Oct. 15, that Steinburg had made all proper disclosures of his economic interests on his 2018 Statement of Economic Interest form.

"I knew I wasn't guilty and wouldn't be found guilty," Steinburg said, reacting to the commission's rulings.[…]
MORE:
[…]He described the complaint against him as "pure ugly campaign politics from a bunch of self-serving malcontents," calling it "politics at its absolute worst."[…]
I think the mud Steinburg and his slander-monkey followers regularly bombard his opponents with are a much better example of "politics at its worst."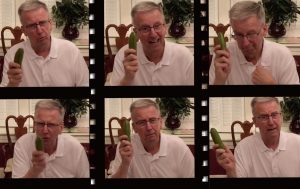 MORE:
[…] Tina Lunt, an Elizabeth City resident, filed the complaints against Steinburg with the Ethics Commission in August 2018. At the time, Steinburg, who was then a member of the state House, was running for a seat in the Senate, a race he would win that November.

One of Lunt's complaints was that Steinburg's contract with Currituck County posed a potential conflict of interest. Under that contract, Steinburg's sports marketing firm, the WolfeStein Group, bought the naming rights to the 2018 Battle of the Blue Ridge, an annual NCAA basketball tournament held Thanksgiving weekend in Asheville. Besides securing the naming rights to the visitcurrituckobx.com Battle in the Blue Ridge tournament, the WolfeStein Group was also supposed to provide promotional services for the tournament.

All coverage of the tournament was supposed to use its full name, "visitcurrituckobx.com," helping generate widespread radio, TV and online exposure for Currituck. Steinburg claimed at the time that buying advertisements with the same reach would have been far more expensive for Currituck.

Steinburg rejected suggestions there was any quid pro quo in seeking the contract with Currituck, a county he represented in the House and now represents in the Senate. He said he had worked hard to represent Currituck's interests as a lawmaker, and would continue to do so.

Steinburg also said he sought an opinion from General Assembly staff on whether it would be ethical for him to pursue a business contract with a county he represents in the Legislature. He said the Legislative Ethics Committee had cleared the arrangement.

In her complaint to the N.C. Ethics Commission, Lunt claimed that Steinburg, who was then a member of both the House Transportation Committee and House Commerce and Job Development Committee, had offered his support for Currituck's efforts to attract the Interstate 87 corridor. He had done so, Lunt claimed, while his negotiations with the county to approve his sports marketing contract were ongoing.

Last week, the N.C. Ethics Commission reviewed that complaint and Lunt's second complaint about missing information from Steinburg's 2018 Statement of Economic Interest, and concluded the lawmaker had not violated any laws or rules.

"After reviewing all relevant information gathered in the investigation and discussing as necessary, the Panel concluded that there was a lack of probable violation under the Act and the complaints should be dismissed," the ethics panel said in its ruling, according to documents Steinburg released to the Chowan Herald.[…]
Amazing.  (I do think the complainant made a mistake of narrowing the focus to the DOT and a potential quid pro quo. )  Emails suggested that Steinburg used his legislative office for private business meetings related to the basketball tournament.  That's gotta violate SOME rule.
MORE:
[…] On Monday, Steinburg reiterated his view that accusations he engaged in a quid pro quo with Currituck are "absurd."

Reached Tuesday, Lunt said she was unaware of the N.C. Ethics Commission's decision. She said she still considers what she accuses Steinburg of doing as a "black and white" violation of state law.

"I am disappointed in the Ethics Commission and whoever was involved in not following through with prosecution," said Lunt, who described herself as a staunch Democrat. "Misinforming the Ethics Commission — when you file to run for a state office — could be considered a felony as well as grounds for removal from office. I am surprised by the Ethics Commission's decision."

[…]