The Pilot's op-ed page keeps the false statements / lefty propaganda coming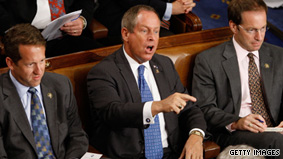 Our thrice-weekly Pulitzer Prize winning, Nobel Prize-nominated local paper here in Moore County is at it AGAIN.  (The good thing about it is that Congressman Joe Wilson gets to pay us a visit once again.) 
Today's editorial praises the public school establishment for improving test scores IN SPITE OF  alleged draconian spending cuts by evil child-hating General Assembly Republicans.   (Never mind that the 2011 budget spent roughly 1 percent less than what Governor Perdue wanted on education.  *SIGH*  Facts are soooooo pesky.) 
The Pilot could also check its own coverage of Moore County Public Schools to see that the system has recently created AT LEAST THREE new positions (with six figure salaries) at the central office in Carthage.  Oh, times are hard.  The poor kids!
By the way — my county government mole tells me the local school system is sitting on a spare $8 million or so in their  bank account. 
The folks at The Pilot could also turn to WECT-TVs coverage of findings by state Senator Thom Goolsby that — *GASP* — public education money is being wasted.
Or they could turn to the John Locke Foundation's report on how — in the face of these alleged drastic cuts —  North Carolina universities are cutting classes and growing "diversity" offices. 
Of course, that would involve hard work and — actually — doing their job.  THAT, my friends, is a lot to ask  some folks in the Age of Obama.