Senator Tillman's diploma bill becomes the very first signed into law by Gov. McCrory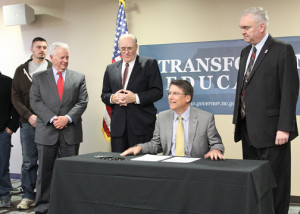 Senator Jerry Tillman (R-Asheboro) — who represents Moore County in the state  legislature — had the honor of hosting Gov. Pat McCrory in Asheboro for the signing of a Tillman-sponsored bill that will change the face of high school education in North Carolina.  Tillman — a former educator — pushed through the legislation which allows students to choose — before their junior year — whether they will pursue a college curriculum track, a vocational curriculum track, or a hybrid.  High school diplomas will be changed to reflect this new policy.
The Tillman legislation increases the level of cooperation between community colleges and high schools, and loosens some certification requirements to make it easier for people with certain skills to become teachers.