SCC's Dempsey: using college email to lobby employees on election choices?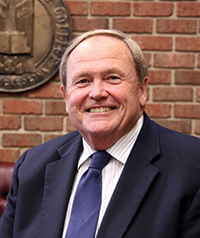 There's nothing like having your boss strongly recommend a course of action.  *If I like my paycheck, THAT is the way I need to proceed.*
Some employees of Sandhills Community College have apparently grown concerned about an email they received from their boss this week and have taken that concern to The Aberdeen Times, a Moore County-based alternative media news site that is giving area drive-bys heartburn: 
We began receiving communications from employees of Sandhills Community College and others late afternoon Friday and early evening about a complaint concerning a politically motivated message supporting Bruce Cunningham sent out by President John Dempsey of Sandhills Community College. One employee provided us with a copy of the message that is shared below.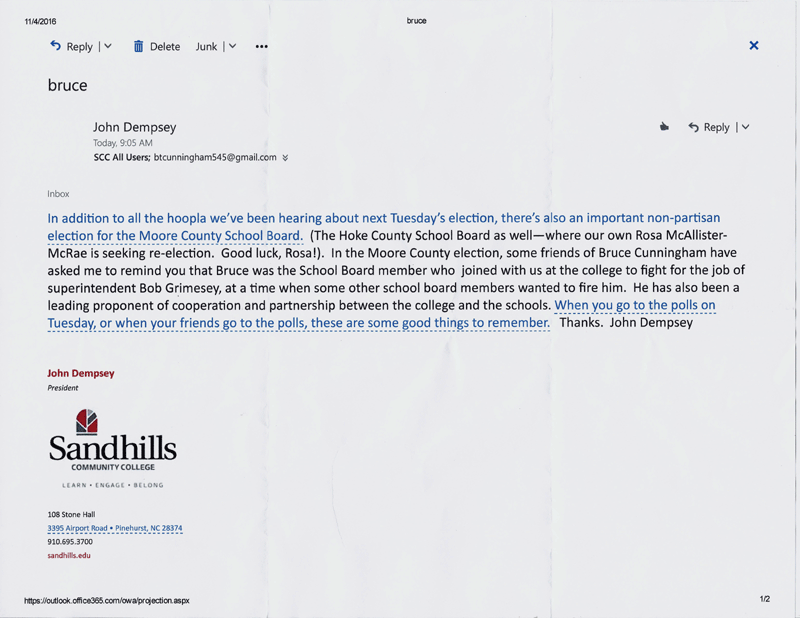 Cunningham has an opponent in the election — Aberdeen resident B.J. Goodridge. And she doesn't sound happy with Dempsey's email:
[…]

"I am very shocked by these revelations. I have always had the utmost respect for John Dempsey during his time at Sandhills Community College. To think that he would use that position to influence an election is almost unfathomable.

I am filing a complaint with the Moore County Board of Elections and will be filing one at the state level as well.

I would have never thought that I would be put in this position. My faith in the democratic process has been shaken this morning. I still cannot believe this has actually happened.

It is such an unconscionable act to create duress for your staff when they exercise their rights in a voting booth. That is what makes a democracy is the ability to vote for whomever we choose without being forced to do so or feeling like our job in jeopardy. We will now wait as the investigative process begins."
It sounds like some others close to the college, and in the community, were not happy either:
We also spoke with Sandhills Community College Board of Trustee member George Little and he acknowledged that this was inappropriate. Little did not want to make an on record comment about the controversy until he was able to speak with Dr. Dempsey about the message.
HERE is what state law has to say about this kind of thing:
Article 5.

Political Activity of Employees.

§ 126-13. Appropriate political activity of State employees defined.
(a) As an individual, each State employee retains all the rights and obligations of citizenship provided in the Constitution and laws of the State of North Carolina and the Constitution and laws of the United States of America; however, no State employee subject to the North Carolina Human Resources Act or temporary State employee shall:
(1) Take any active part in managing a campaign, or campaign for political office or otherwise engage in political activity while on duty or within any period of time during which he is expected to perform services for which he receives compensation from the State;(2) Otherwise use the authority of his position, or utilize State funds, supplies or vehicles to secure support for or oppose any candidate, party, or issue in an election involving candidates for office or party nominations, or affect the results thereof.
(b) No head of any State department, agency, or institution or other State employee exercising supervisory authority shall make, issue, or enforce any rule or policy the effect of which is to interfere with the right of any State employee as an individual to engage in political activity while not on duty or at times during which he is not performing services for which he receives compensation from the State. A State employee who is or may be expected to perform his duties on a twenty-four hour per day basis shall not be prevented from engaging in political activity except during regularly scheduled working hours or at other times when he is actually performing the duties of his office. The willful violation of this subdivision shall be a Class 1 misdemeanor. (1967, c. 821, s. 1; 1985, c. 469, s. 1; c. 617, s. 5; 1993, c. 539, s. 930; 1994, Ex. Sess., c. 24, s. 14(c); 2013-382, s. 9.1(c).)
The Times reports that a formal complaint is also planned for submission to the college's board of trustees.
(It should be noted that Billy Marts — publisher of The Aberdeen Times — is also a candidate for Moore County Board of Education. He will be facing off against a board incumbent on Tuesday's ballot.)
This is Dempsey's third recent brush with public controversy.  He publicly refused to enforce the state's HB2 law on-campus.  He also reportedly expressed concern to Pinehurst resort officials about allowing a prominent opponent of radical Islam to speak in their facilities.