SC: Sanford opponent's mug shot, arrest record, and divorce details emerge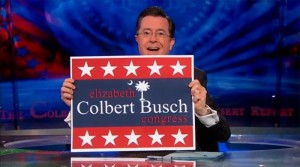 The political establishment and the national media have decided to make the special election for the First Congressional District ALL ABOUT Mark Sanford's personal life.  The good folks — and kindred spirits — at FitsNews.com, south of the border,  have found that Democrat Elizabeth Colbert Busch has an arrest record, some not-so-flattering mug shots AND a messy divorce, as well:
Thus far South Carolina's topsy turvy first congressional district special election has been a referendum on the personal life of former S.C. Gov. Mark Sanford. Dominating the headlines? His 2009 fall from grace as well as the more recent trespassing allegations leveled against him by his ex-wife, former S.C. First Lady Jenny Sanford.

The great 'undiscovered country?' His Democratic opponent, Elizabeth Colbert-Busch (who to her discredit has gone to some lengths to inhibit said discovery).

[…]

Anyway, as we noted in a post last month Sanford isn't the only candidate in this race with personal drama.

Colbert-Busch was also involved in a messy divorce, one that landed her in jail on contempt of court charges in 1988. Now – just days before she and Sanford face voters in an extraordinarily close race – a mug shot of Colbert-Busch's 1988 arrest has surfaced.

[…]

You know, usually it's hard to land a six-figure taxpayer-funded gig when you've got a mug shot on file, but then again this is South Carolina … where it's been pretty much conclusively established that anything goes.

Anyway … while it's never a good thing to have your mug shot surface in the closing days of a campaign, we're not sure the emergence of this pic is going to hurt Colbert-Busch too badly (well … unless a certain percentage of male voters was harboring that whole 'maybe she was hot when she was younger' fantasy).

Because seriously … that first set of pictures resembles a disguise worn by Roger the alien on American Dad to us.

[…]
Its a shame that this race has been made ALL about the personal lives of each candidate.  In these trying times, it would be nice to hear some thoughts about the many, many issues facing the country.   But Mike Flynn, over at Breitbart News, suggests that Colbert Busch may have helped us get to this point by refusing to talk about her true beliefs and spending so much time on her famous brother and Mark Sanford's divorce.
The vote is Tuesday.  Hold on, folks.  It will ALL be over soon.