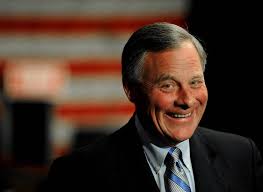 He once told us that repealing ObamaCare was the "dumbest" idea he'd ever heard.  It looks like our very own Richard Burr thinks voting to spend BILLIONS on subsidies for big insurance companies to keep ObamaCare afloat is pretty freakin' smart:
Two key senators on Thursday announced that the bipartisan proposal they've crafted to fix Obamacare's cost-sharing reduction (CSR) payments has a total of 24 original co-sponsors on both sides of the aisle.

Sen. Lamar Alexander, R-Tennessee, the chairman of the Senate Health, Education, Labor & Pensions Committee, reached an agreement with his ranking member, Sen. Patty Murray, D-Washington, and it's backed by 12 Democrats and 12 Republicans.

The short-term deal would extend CSR payments for the next two years and would eliminate the question about whether paying them is legal. The agreement would permanently amend Obamacare to give new flexibility for states to create insurance policies that have a larger variety and lower costs and it also would continue CSRs during 2018 and 2019.

[…]

Here are the co-sponsors:
Sen. Lamar Alexander, R-Tennessee

Sen. Mike Rounds, R-South Dakota

Sen. Lindsey Graham, R-South Carolina

Sen. John McCain, R-Arizona

Sen. Susan Collins, R-Maine

Sen. Joni Ernst, R-Iowa

Sen. Lisa Murkowski, R-Alaska

Sen. Richard Burr, R-North Carolina

Sen. Bob Corker, R-Tennessee

Sen. Bill Cassidy, R-Louisiana

Sen. Chuck Grassley, R-Iowa

Sen. Johnny Isakson, R-Georgia

Sen. Patty Murray, D-Washington

Sen. Angus King, I-Maine

Sen. Jeanne Shaheen, D-New Hampshire

Sen. Heidi Heitkamp, D-North Dakota

Sen. Tom Carper, D-Delaware

Sen. Claire McCaskill, D-Missouri

Sen. Al Franken, D-Minnesota

Sen. Joe Donnelly, D-Indiana

Sen. Amy Klobuchar, D-Minnesota

Sen. Joe Manchin, D-West Virginia

Sen. Tammy Baldwin, D-Wisconsin

Sen. Maggie Hassan, D-New Hampshire
Trump opposes this deal, so — of course — it makes *perfect sense* for our very own Tricky Dick (and his special friend Lindsey Graham-nesty)  to sign on to it.  This comes on the heels of Trump's executive order to scrap ObamaCare subsidies and open the door to interstate insurance sales.