#nc-03: Gambling interests, DC swamp betting BIG on Dacey
If you run into Craven County commissioner Scott Dacey, one of the first things likely to come out of his mouth is how much money he's raised in his bid to oust Walter Jones from Congress.  Here he is on Facebook: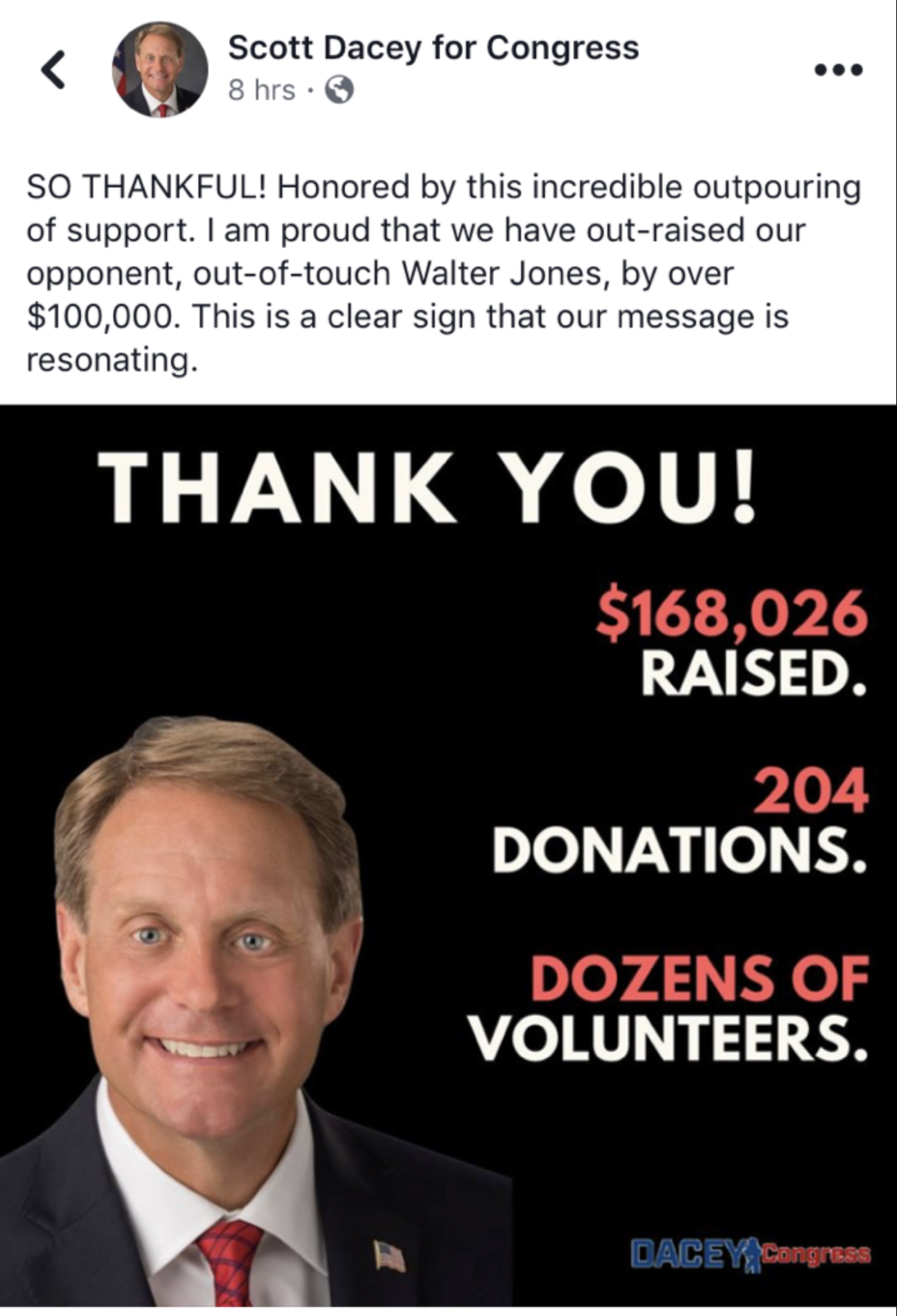 Here's the link to his report with the FEC.  Being the devoted public servants that we are, we decided to analyze it for you to verify whether the Dacey machine is truly the grassroots juggernaut it is being sold as.  Here we go:
First, we only know the identity of donors who gave over $50. (Donors below $50 don't have to be reported by name.)  When you look at documented donors, and discount loans and contributions from himself and family members, Dacey raised $135,053.21. Where did THAT money come from?
$10,200 of that total came from political interests in DC with ties to California: The California Nationals Indian Gaming Association, Rep. Jeff Denham's (R-CA) leadership PAC, and Rep. Darrell Issa's (R-CA) leadership PAC.  Why are those folks from California so interested in who represents North Carolina's 3rd district?

Only 31% of Dacey's campaign haul came from within the 3rd Congressional District.

 The remaining 69% ($93,468.21)  came from donors with addresses outside the district he wants to represent in Congress. Most of those donors came from Washington D.C./Northern Virginia, Arizona, Wisconsin and California.
A staggering 45% of the money Dacey took in was from contributors connected to the gambling industry: casino owners, horse track owners, slot machine manufacturers.
A staggering 43% of the money came from contributors with connections to Native American tribes. (9 tribes gave to him directly.) Dacey has for years been a lobbyist for Native American tribes and their interests. In fact, while he's running for Congress, he's registered as a lobbyist for TEN TRIBES.
Nineteen percent of Dacey's haul came from lobbyists. (Lobbyist actually made up 33% or one third of his contributors)

Three of Dacey's contributors have close personal / political / business ties to now-former House speaker John Boehner.

 (One is a lobbyist who was involved in a scandal dealing with an apartment he provided to Boehner.) 
Just for giggles, I compared this to Walter Jones's campaign report.  Roughly 60 percent of his haul came from within the 3rd congressional district.