Retiring NC Senator Blake says Tillman best choice to represent Moore County in Raleigh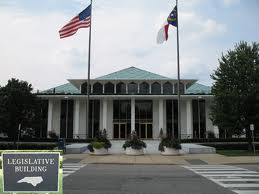 Senator Harris Blake has won a lot of friends and supporters during his long tenure representing Moore County in the state Senate.  Retiring this year, Blake has sounded off about which of the three GOP candidates for District 29 will have his vote:
The 29th District includes all of Moore County and most of Randolph County. The incumbent, Republican Sen. Jerry Tillman, of Archdale in Randolph County, is seeking re-election. He faces two opponents from Moore County — John Marcum, of Pinehurst, and Tommy Davis, of Aberdeen.

Blake has thrown his support to Tillman. Both were first elected to the state Senate in 2002 and were seat mates for about eight years.

"I think he will represent us well," Blake said. "I am not campaigning against anyone. I don't know Mr. Davis. John Marcum is well-known here. Jerry is a good man, and I am happy to support him."

Tillman has been promoting his leadership role in the Senate as majority whip and his increased clout since Republicans took control of the General Assembly two years ago. He has said that he can be a more effective representative for Moore County than someone new.

"For the last 10 years, I have represented two counties (Randolph and Montgomery)," he said. "Montgomery County is about 2-to-1 Democrats to Republicans. I gained their confidence. They know I could get things done for them. I will do the same for Moore County."
Davis recently made the news recently when his wife called 9-1-1 and sheriff deputies apprehended him at gunpoint at his home.    Marcum has made two unsuccessful runs for mayor of Pinehurst:
[…] Marcum […] has stressed that Moore County needs its own senator, something it has enjoyed for the last 10 years with Blake.

"I think it is important for Moore County to have direct access to what goes on in Raleigh and in the Senate because of its explosive growth, as well as back-to-back U.S. Opens in 2014," Marcum said. "We need to keep our Senate seat to meet our future needs."  […]

Marcum said the business environment in North Carolina is not good.

"Compared with all other states, we are well below the mid-point in the major categories affecting economic growth and jobs," he said. "Specifically, we have the fourth-worst unemployment in the U.S., the highest state tax on gasoline, one of the higher corporate taxes and 20th worst total taxes, 20th worst K-12 education performance and, according to Civitas, the ninth-worst business climate and a $100 billion debt."

Marcum said the Republican majority in the General Assembly has done little so far "to reverse the disastrous policies" of the past.

"There has been some progress on social issues, but tax and spend still is the name of the game in Raleigh rather than the economic reforms that were demanded in the election of 2010," he said. "Taxes have been increased, and funding for some programs has been increased without a means to pay for it."

Marcum added that everyone needs "to work together to make real progress in cutting taxes, including taxes on gasoline, reducing bureaucratic over-reach and regulation, and cutting our budget and debt through eliminating wasteful programs.

Marcum has also been critical of Tillman.

"As a long-term senator, he has been a part of the culture in Raleigh, where people 'go along to get along' rather than insist on real reform," he said. "He even voted recently to allow a 4-cent-a-gallon tax increase in January. […]

Tillman took strong exception to Marcum's claim that he supported a 4-cent increase in the state's gas tax. He said the Senate never voted on a House-passed bill that would have capped the tax earlier this year.

"The House voted on it and sent to us in the last few days of the session," Tillman said. "It needed some work. We did not get a chance to vote on it."

Tillman said he spent several hundred dollars to pay for recorded calls to be made to Republican and unaffiliated voters explaining his position.

"I favor capping the gas tax, but not at its current high level," Tillman said. "I favor lowering it. In May (short session), I will work to bring up the bill, lower the tax and cap it." […]
Blake is the second high-profile political figure in Moore County to announce their support for Tillman.  Pinehurst mayor Nancy Fiorillo did the same a few months back on this site.