Report: Dems fretting about their prospects for Tillis seat
State senator Erica Smith (D) HAS a dream:
Before Thom Tillis was a vulnerable Republican senator, before Barack Obama became the first black president and while Donald Trump was embarking on an early season of his hit NBC show "The Apprentice," Erica Smith was already thinking about her campaign for U.S. Senate in North Carolina.

At a Congressional Black Caucus Institute "boot camp" in 2005, she said she started to sketch out a decade-long political path that could make her the state's first African American senator after the 2016 election. She briefly put her plans on hold after her 5-year-old son died in 2012, and continued to serve in local office before launching her campaign earlier this year.

In an interview Tuesday, the Democrat — now a North Carolina state senator — said she's "worked my way toward it," and is confident she has what it takes.

"I can beat Thom Tillis," she said.  […]
Well, it wasn't THAT long ago (2008) that a sitting Democrat state senator took on a sitting Republican US senator and WON.  But it doesn't sound like many are expecting The Hagan Effect to strike again:
But a half-dozen Democatic strategists voiced concern that all that planning might not be enough to cut it, and they're seeking a candidate with statewide experience and fundraising prowess to beat the Republican incumbent in what's expected to be a tough but competitive race next year.

Democrats are in talks with at least four others in hopes that they may run, according to Democratic strategists involved in the state. The list includes former state Sen. Cal Cunningham, state Sen. Jeff Jackson, former state Treasurer Janet Cowell and former state Sen. Eric Mansfield. The first three potential challengers didn't respond to requests for comment for this story, while Mansfield is officially exploring a bid.

Cunningham, Cowell and Mansfield all have some statewide experience.

Cunningham ran unsuccessfully for the Democratic nomination for Senate when Sen. Richard Burr (R) was seeking a second term in 2010.[…] 
Cunningham, the former legislator,  could NOT get past kooky Elaine Marshall in the 2010 Democrat field.   But the drive-by media and the chattering classes in Raleigh seem to love him.  His name gets thrown out there every time some big seat comes up for a vote.  (Never mind that 'Occupy Elaine' cleaned his clock.)
[…] Cowell became the first woman elected to her former statewide gig.[…] 
That could be interesting.  Tillis once went public with an endorsement of Cowell as "one of the finest public servants" he'd ever known.  (It's also my understanding that she left quite a mess in the state treasurer's office when she left in 2016.  That could certainly come back to haunt her.  But it would be hard for Tillis to bring up any of that against "one of the finest public servants" he'd ever known.)
[…] And Mansfield — now working as a doctor — ran unsuccessfully for the Democratic nod for lieutenant governor in 2012.  

Like Smith, Mansfield is black — a trait that could appeal to a core constituency for the Democratic Party, particularly in the South — and Cowell is a woman, which makes her attractive to well-funded outside groups such as EMILY's List.

And in a state with a large military footprint, Cunningham, Jackson and Mansfield can all speak to their experience in the Armed Forces: Cunningham served in the Army Reserve, Jackson's a veteran of the war in Afghanistan and still serves in the Army National Guard, and Mansfield served as an Army doctor.[…]
Mansfield is as lost a cause as Smith is.  Jackson, however, would be an interesting choice for Democrats.  Some wise political souls I know have compared him to the pre-scandal, pre-babymama 1998 edition of John  Edwards.  Of this list, I think he'd be the most competitive for Democrats.  Cowell would be a close second.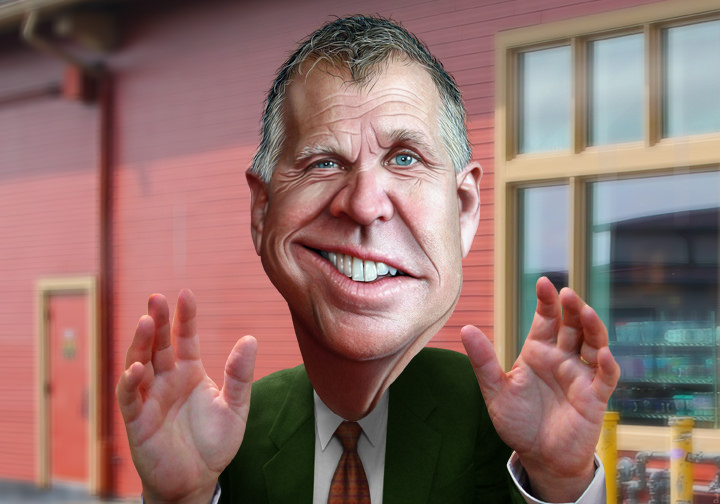 MORE:
[…]Several strategists of both political parties interviewed over the past month have said the prospect of an open seat in 2022, with Burr having already said he will not seek another term, may be weighing on the potential candidates.[…]
2022 might be easier for them.  Trump will have major coattails here in North Carolina in 2020.
MORE:
[…]  Scott Falmlen, a Raleigh-based Democratic strategist and a former executive director of the state Democratic Party, said the Democratic Senatorial Campaign Committee has been in talks with the potential contenders and is "closing in on a preferred candidate" with the goal of helping to line up a Tillis challenger by the end of the month, when the second fundraising quarter comes to a close.

Falmlen and other Democratic strategists interviewed believe the party has "a bit of breathing room" since Tillis has what's shaping up to be an expensive primary on his hands against retired businessman Garland Tucker.

"Nobody's hitting the panic button," Falmlen said.

Stewart Boss, a spokesman for the DSCC, said in an email Wednesday: "Democrats will have a strong Senate nominee in this race, and the question is whether Tillis will even make it to the general election."

Tillis, who very publicly clashed with Trump over his national emergency declaration to pay for his proposed U.S.-Mexico border wall, is weak with Republican voters compared to other Republican senators up for re-election next year. His campaign declined to comment.

Still, statewide campaigns are expensive, and every day not in the race is a fundraising opportunity lost ahead of what could be a crowded television market next fall in North Carolina — a presidential battleground that will also feature a re-election bid by Democratic Gov. Roy Cooper, who is quite popular given the state's recent lean away from the party. 

Mecklenburg County Commissioner Trevor Fuller has also launched a bid, and like Smith, Democrats have concerns with his ability to raise money. According to the Federal Election Commission, he raised less than $24,000 in the first quarter of the year, while she raised $16,800 along with a $4,500 loan to herself. […]