Rep. LaRoque and the latest on the smell test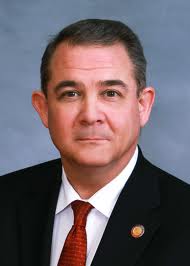 The problems keep piling up for state Rep. Stephen LaRoque (R-Kinston) — a close political ally and friend of SpeakerrrrrRichardMorgan™.   According to the left-wing group NCPolicyWatch, a defamation lawsuit LaRoque filed against a political opponent is starting to backfire on LaRoque:
State Rep. Stephen LaRoque's federally-funded non-profit will have to keep paying $250 a day for failing to provide documents in a defamation lawsuit LaRoque filed against a past political opponent, a Lenoir County judge ruled today.

That brings the total owed by the economic development non-profit up to $5,000, and counting.

The East Carolina Development Company is an economic development non-profit funded with more than $7 million from the U.S. Department of Agriculture and started by LaRoque in 1997.

It's part of a national USDA program, the Intermediary Relending Program, that seeks to fight poverty in rural areas by providing low-interest business loans to struggling small business owners unable to get financing from commercial banks.

Lenoir County Superior Court Judge Paul Jones, in a brief court hearing held Wednesday afternoon in Kinston, turned down a request by LaRoque's attorney Bert Diener to stay the $250 daily contempt fine while LaRoque appealed the decision to the N.C. Court of Appeals. Lawyers for Van Braxton, the Democratic opponent being sued by LaRoque for defamation, have said that the non-profit hasn't turned over enough board minutes, loan documents and other information.

Diener, who represents both LaRoque and the non-profit, said he will continue with the appeal, a process that could take several months. (Go here to read the initial post we wrote about the contempt order.)

LaRoque, a Kinston Republican serving this third term in the state legislature, has come under significant public scrutiny following N.C. Policy Watch's investigation "Public money, personal gains"  into two non-profits LaRoque runs, the East Carolina Development Company and Piedmont Development Company.

The investigation, published in early August, found that LaRoque received generous salaries of up to $195,000 a year from the federally-funded non-profit; ran counter to IRS guidelines by allowing his wife and brother to join the non-profit's board of directors; and arranged to loan federal money to close associates, including Diener, his lawyer; two GOP state legislators; and LaRoque's wife, when the two were dating.

Last week, court records revealed that LaRoque took a $200,000, no-interest loan from East Carolina Development Company in July 2010 for his for-profit company, LaRoque Management Group.

Campaign records also show that LaRoque's campaign committee owes LaRoque Management Group $19,000 for a loan his campaign took out in 2008 from the company. (LaRoque got in some trouble in last fall with the N.C. State Board of Elections for that loan, click here to read an earlier post about that.)
Now, it appears the Internal Revenue Service has some questions about that $200,000 loan:
A federal tax return for Stephen LaRoque's nonprofit didn't disclose a loan given to the lawmaker's private company last year, despite the IRS asking if the nonprofit's leaders benefitted from the charity.

The loan's omission on the tax forms could put LaRoque, a Kinston Republican serving as a co-chair of the state legislature's powerful House Rules Committee, at odds with federal tax rules that bar insiders from reaping personal benefits from the charitable organizations they run.

"When you see an interest-free loan, it's usually inappropriate," said Richard Schmalbeck, a Duke law professor who specializes in nonprofit tax law.

Schmalbeck couldn't comment directly on the situation facing East Carolina Development Company, an economic development nonprofit founded by LaRoque in 1997. But the law professor said IRS officials can choose to levy excise taxes of up to 25 percent on any excess benefits or, in rare cases, revoke a nonprofit's tax-exempt status.

The legislator's private company, LaRoque Management Group, took out a $200,000, no-interest loan from the federally-funded nonprofit in July 2010, and repaid it in May, according to a copy of a promissory note. The note was entered into the court records of a defamation lawsuit LaRoque filed against Van Braxton, his Democratic opponent from the 2010 election.

The East Carolina Development Company's recent tax return, commonly referred to as an I-990, didn't acknowledge the July 2010 loan in a section that specifically asked if any of the nonprofit's principals received a loan or other economic benefits.

The tax form, available here, covered all the nonprofit's transactions from Oct. 1, 2009 to Sept. 30, 2010, and was filed with the IRS in late August 2011, according to the tax return provided to N.C. Policy Watch by East Carolina Development Company.

It also shows LaRoque earned $105,000 in compensation during a year in which the nonprofit reported losses of nearly $300,000.

IRS officials have previously declined to comment, citing agency rules that prohibit public comment about taxpayers.

LaRoque, through his attorney Bert Diener, declined to comment for this article. LaRoque has not publicly given an explanation about what the loan was for, and whether it fell within the charitable purpose of the nonprofit.

Bob Hall, the director of the government watchdog group Democracy NC, said the lack of disclosure is troubling, and called for a legislative ethics investigation into LaRoque.

"All of this is raising pretty serious questions about his commitment to telling the truth and serving the public," Hall said. "It's not directly related to the legislature, but he is a public official that has an organization that receives tax benefits."

N.C. House Speaker Thom Tillis, who appointed LaRoque to a leadership role, told N.C. Policy Watch in September that his office was reviewing the questions raised about LaRoque's nonprofit.

"It's still something we're looking at and something we're taking seriously," Jordan Shaw, Tillis' spokesman, said Thursday.

USDA officials indicated they weren't aware of the $200,000 loan, in line with agency rules that don't require approval for economic development loans made with money that's been repaid to the intermediary lender, according to Delane Johnson, a spokeswoman for the agency's Rural Development Office in North Carolina.

"As businesses repay the initial loans back to the intermediary, the funds are revolved and relent for continued economic development in rural areas," Johnson wrote in a statement to N.C. Policy Watch. "The current regulations do not require USDA concurrence on loans made from the revolved funds.  The $200,000 loan was made from revolved funds."

The $200,000 loan is one of several questionable management practices disclosed in recent months at East Carolina Development Company and Piedmont Development Company, two nonprofits founded by LaRoque and funded with more than $8 million in funds from the U.S. Department of Agriculture's Intermediary Relending Program. The program, which loans the funds to intermediaries like LaRoque at a one-percent interest rate, aims to combat poverty in rural areas by enlisting nonprofits to lend out the federal money to small businesses unable to get loans from commercial banks. Money that is repaid by the businesses is then lent out again to other small businesses to improve economic development, though with less oversight from the USDA.

In early August, N.C. Policy Watch published its investigation "Public Money, Personal Benefits" that found LaRoque earned generous salaries, as high as $195,000 a year, for running the two small economic development groups with a board of directors often dominated by LaRoque's immediate family members. NC Policy Watch found LaRoque also arranged to give loans to close associates of Laroque's – including his wife (whom past board members said was dating LaRoque at the time of the loan), two GOP legislators and his own attorney. USDA oversight was also lacking, and the agency went as long as four years without conducting required site visits.

Courthouse contempt

The nonprofit is also facing problems in the courtroom.

A $250-a-day contempt fine issued against the nonprofit by a Lenoir County judge will be $14,000 by the end of the week.

The nonprofit was fined for not turning over documents in the ongoing defamation lawsuit filed by LaRoque, and the mounting fine could shut the nonprofit down if it continues, according to filings at the N.C. Court of Appeals made last week by Diener, the attorney for both LaRoque and the nonprofit.

"ECDC is a nonprofit organization with limited resources and the indefinitely daily accrual of sanctions coupled with the obligation to pay attorney's fees to Defendant Braxton has the real potential to render the nonprofit insolvent," Diener wrote. "Again, ECDC is not in a position to pay such an amount."

The nonprofit has yet to post a $100,000 surety bond it was supposed to file with the Lenoir County Clerk of Court to ensure the fine would be paid, according to staff at the Lenoir County Clerk of Superior Court's Office.

The mention in court records of financial difficulties at East Carolina Development Company's contrasts with the recent tax records showing the federally-funded nonprofit was flush with cash.

In its most recent tax return to the IRS, the East Carolina Development Company reported having $2.6 million in savings accounts as of Sept. 2010.

The appeals court has turned down requests from LaRoque's lawyer to immediately intervene in the defamation case, and hasn't made a final decision about whether the court will reconsider the nonprofit's contempt ruling.
This has the real potential to derail the work of the newly-minted GOP majority in Raleigh.  Even though LaRoque has not been found guilty of a crime, the publicity and the resulting public perceptions will harm the legislative Republicans' ability to portray themselves as being different from "those other guys" who ran the place for decades.  if this doesn't get resolved soon, it would be wise for Speaker Tillis and the leadership to have the kind of quiet talk with LaRoque that they've had with Coy Privette and  other scandal-tarred legislators in the past.