Renee Ellmers: It's an honor to stand with John Boehner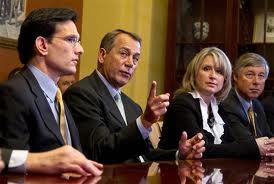 Congresswoman Renee Ellmers thinks those annoying folks back home need to just shut up and deal with her new best friend:
"I hear this many times back home that, 'Oh you shouldn't be standing there with John Boehner,' " she said. "Well John Boehner happens to be the Speaker of the House. He's kind of the CEO of the House of Representatives. And I think it's quite an honor to be standing there."
(I could have sworn that The Founding Fathers meant for US, the voters, to be the CEOs. ) 
The Ellmers campaign's main arguments for her reelection appear to be (1) her relationship with a congressman from Ohio, and (2) the mid- six figures in her campaign treasury.
Never mind that about 90 percent of her treasury comes from lobbying organizations, employees of those organizations, and other sources outside of the 2nd district.  (She's got a group from Maryland raising money on her behalf.)  
 I covered Bob Etheridge's defeat of Republican David Funderburk in 1996.  Funderburk had a
TON
of money from PACs and outside-the-district activists.  Most of Etheridge's money was from within the district.  As you know, Etheridge won.
That money from inside the district also translates into votes on election day.  Most all of those folks at the PACs cannot vote for you on election day.  If you filter out ONLY the in-the-district contributions to Ellmers, and compare them to the treasuries of her opponents, the race is pretty even.
If these mainstream media repeaters / reporters bothered to step out of the a/c in the newsroom and talk to people in the district, they would find A  LOT of anger.  There are scores upon scores of people who sacrificed blood, sweat and tears to get Renee past Bob Etheridge in 2010.  They now feel ignored and betrayed by her.
I've heard from people who contact Renee's office seeking help, and rarely — if ever — get any follow through.  Ellmers is one of several incumbents — considered "manageable" by the House leadership and DC establishment — who are being showered with dollars from DC.  If you're happy with John Boehner of Ohio and Eric Boehner of Virginia MANAGING your congressional representative,  vote to send Renee back to DC for two more years.
Keep an eye on
Richard Speer of Fayetteville
.  His campaign is whipping up A LOT of excitement among Tea Party groups who
WERE
with Ellmers in 2010.