City of Raleigh says 'Nyet' to Occupy camp-out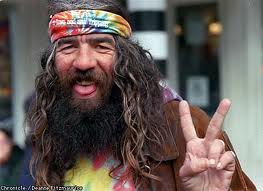 Raleigh city government is displaying a rare burst of common sense:
A City Council panel on Tuesday recommended against allowing Occupy Raleigh demonstrators to camp outside City Hall, saying the request poses too many health and legal risks.

But the city offered to work with the group to find private property downtown suitable for an encampment.
*SCREEEEEECCCCCCHHHH!!!!!*   Wait.  What was that last part?
Mayor-elect Nancy McFarlane said in an interview that she's talking with a downtown property owner "interested" in hosting the group.

"I can't tell you the details, because I haven't worked anything out yet," she said. "We're talking through some of the possibilities."

The city's handling of Occupy Raleigh poses an early test for McFarlane, who will be sworn in next month as the successor to Mayor Charles Meeker.

McFarlane has cited the potential for setting a precedent. If Raleigh allows an encampment on public property, the same access would have to be extended to other groups in the future.

Joe Huberman, a spokesman for Occupy Raleigh, said demonstrators are disappointed by the city's stance but encouraged that McFarlane is at least willing to help.

"I'm thrilled she offered to do that," he said. "We've got the mayor-elect working for us. I think we made a good case, and they want to find a way to make it work."
So, this raises a question.  How radical and anti-establishment are you if you are having sit-downs with city government to discuss logistics for protesting against them?   Raleigh's new mayor is showing her true colors.  She's DEFINITELY one of the Chapel Hill-Carrboro space alien types.  (Good luck to my Raleigh friends.  Sounds like you're going to need it.)
The 3-to-0 vote Tuesday came after city staffers outlined a list of problems with allowing an encampment on City Hall grounds, from objections by neighbors to hazards associated with people sleeping near diesel storage tanks and electrical generators.

The camp would be a place for protesters to eat and sleep while they continue their protests at the Capitol.

So far, the city has spent $61,000 paying police to monitor the demonstrators, said assistant city manager Dan Howe.

Security for a campsite could cost $500 to $800 per night, but the exact figure would depend on whether the city used police officers or private security guards already posted at City Hall, Howe said.

"I will not say it's impossible, but there would be lots of challenges," he said. "There certainly would be costs associated with it, too."

A dozen demonstrators attended the meeting to support Occupy Raleigh's request to set up tents on a grassy area next to the City Hall parking deck at Dawson and East Morgan streets.

"Occupy Raleigh has become a small community with the goal to bring change to North Carolina," said Huberman. "We need a place that is visible and has a welcoming atmosphere so strangers will feel comfortable visiting us and learning about our issues."

That opportunity is available, City Attorney Tom McCormick said. Demonstrators can picket on the sidewalk, gather in city parks from dawn until dusk and seek permits to use portions of the street.

The group would be better off staying overnight at a church, said Councilman Eugene Weeks, who recalled his own experiences as a civil rights demonstrator.

Demonstrators haven't found a church or property owner willing to serve as a host, Huberman said. The issue now goes to the full City Council, which meets next Tuesday.