Put up or shut up time for NCGOP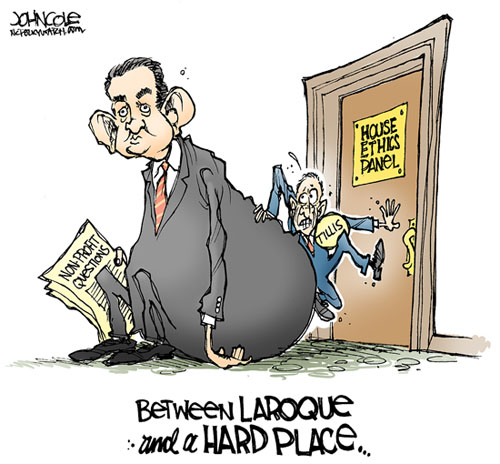 There are a number of developments brewing in Raleigh that will tell volumes about whether North Carolina made a wise investment in the Republican Party last November:
1) Ethics:  There has been a steady drip-drip-drip of information hitting the media over the last several months about the scandal growing around state Rep. Stephen Laroque (R-Kinston).   Media reports have suggested Laroque improperly funneled government funds to friends, family members and legislative colleagues. There have been hints in the press of a possible IRS probe.  House Speaker Thom Tillis has stayed quiet on the Laroque matter, until forced to act on a complaint by House minority leader Joe Hackney (D).  Tillis has said he will refer the Laroque matter to the House Ethics Committee. (Media reports indicate Laroque has retained the services of heavyweight Raleigh attorney Joe Cheshire.)
While in the minority, House Republicans raised cain about the antics of now-disgraced Speaker Jim Black.  The 2010 campaign promised a NEW WAY of  doing business in Raleigh.  Republican leaders need to take this opportunity to show voters that things truly have changed on Jones Street — and that we didn't simply trade one group of foxes for another to do hen-house guard duty.
2) Taxes:   Allen Page, of FreedomWorks, is sending out the following message to Tea Party activists across North Carolina:
The North Carolina Gas Tax is already the third highest in the nation and was just increased by 2 cents per gallon (July 1, 2011). It is projected to increase another 4 cents per gallon (January 1, 2012).

This increase will bring our gas tax to 39 cents per gallon, an 11% increase, making ours the 2nd highest gas tax in the nation!

During this legislative session, House Bill 399, which would have capped our gas tax, was introduced and signed by 26 Republican House members. Unfortunately, this bill was not heard in either the House or the Senate.

Immediately after Thanksgiving, legislators return to Raleigh. We need to send a strong message that struggling North Carolinians cannot take another gas tax increase. OUR GAS TAX MUST BE CAPPED!

Please TAKE ACTION by calling the office of Thom Tillis, Speaker of the North Carolina House, and Phil Berger, President Pro Tempore of the North Carolina Senate. Please ask Representative Tillis and Senator Berger to allow House Bill 399 to be heard and voted on.

The Honorable Thom Tillis
House Speaker (919) 733-3451

The Honorable Phil Berger
Senate President Pro Tempore (919) 733-5708
Are we seriously going to have to BEG the GOP majority in the legislature to NOT raise the gas tax?  Taxes are the defining issue that sets the GOP apart from the Democrat appropriators.  Meanwhile, GOP gubernatorial candidate Pat McCrory is floating an idea about stopping economic development incentives to lure companies to North Carolina, and simultaneously cutting the state's corporate tax rate.  The Winston-Salem Journal has weighed in on McCrory's idea:
Pat McCrory isn't alone in his distaste for huge incentives paid to lure big companies to North Carolina. They're not very popular with the public, either.

The former Charlotte mayor and 2008 Republican candidate for governor, who is the GOP favorite for another try at that office in 2012, recently criticized a $30 million incentive plan that Gov. Bev Perdue's administration unsuccessfully offered to Continental Tire, which went to South Carolina instead.

McCrory raises a question that is at least worth discussion during the campaign: Should North Carolina stop paying large incentives and tax breaks to major corporations to locate in the state? And, if we were to do that, would we fare better in the recruitment wars by lowering the state's corporate income tax?

In recent years, the issue has been discussed, mostly by legislative Republicans. But there has been no legislative action, and incentives continue to be offered and paid. Perdue proposed a corporate tax cut earlier this year that the legislature did not enact.

Given the current interstate battle for industrial locations, it appears to us that McCrory's plan simply would not work. We strongly suspect that industrial clients would welcome lower tax rates here but still demand incentives.

In other states, where lawmakers have been more willing to build their tax bases on the backs of individual taxpayers or to underfund schools, corporate income tax rates are already lower than ours. And those states still find themselves being squeezed for incentives.

Nonetheless, McCrory and his party offer an interesting idea. They should present a plan for it that is full of sound arithmetic and business assumptions.

Essential to such a plan is a willingness by the legislature to give the N.C. Department of Revenue the authority it needs to fully collect corporate taxes already owed to the state by multistate corporations located here. Every dollar lost to their tax schemes is one less dollar available to help lower the overall tax rate for all business. It is also essential that any such proposal cause no further reductions of essential state services.

We're open to seeing a sound proposal. But unfortunately, an end to incentives is a long way off.
Are you guys seriously going to let Boss Bev out-flank you to the right on corporate tax cuts? Why not cut corporate taxes? You have the numbers, and it sounds like Boss Lady is all for it.  What are you waiting for?  Why are we dangling money in front of Chinese firms, but squeezing companies already committed to North Carolina?
Yes, these and other developments are really going to tell us if we voted for radical change, or simply rearranged the deck chairs on The Titanic.