Sympathy for a cop friend KIA? Anti-media feelings? (Sounds pretty normal if you ask us.)
The N&O is upset — the diaper soaking kind of upset — over a Beaufort County judge's social media postings.  Did he say something racist? Un-American?  Did he voice a personal opinion on the shooting case he's ruling on? Nope.  None of that:
[…]North Carolina Superior Court Judge Jeffery B. Foster ruled Wednesday, saying the media did not have standing in the case, but even if it did, "good cause does not exist" to make the body-cam video public. A 2016 law gives judges authority over the public release of body camera and dashboard camera footage.[…] 
Translation:   *Our efforts to lynch the local sheriff's department are falling flat, so we're going to make this judge PAY.*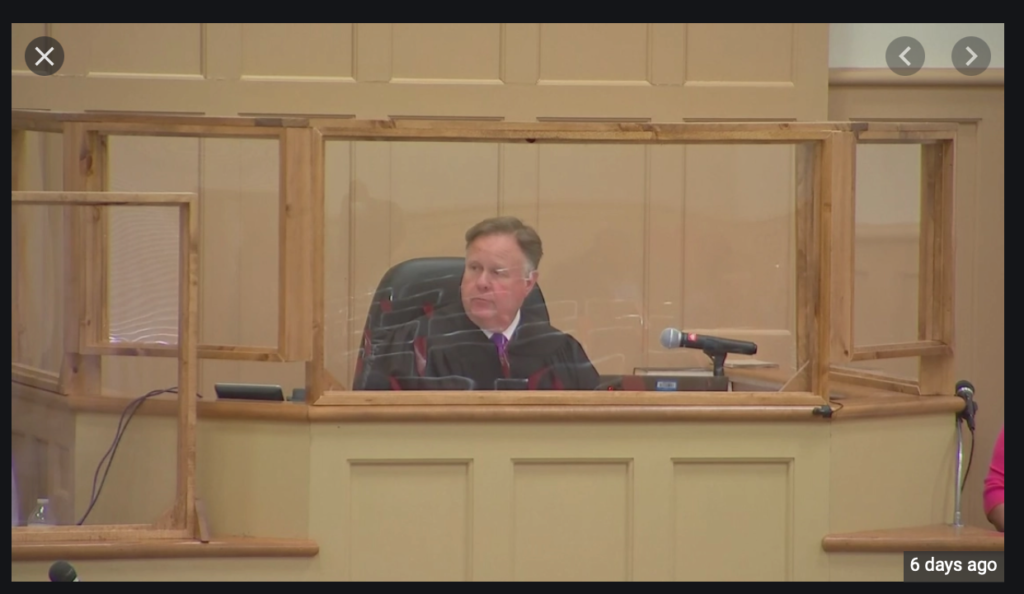 (You have to love the photo included with the linked article showing more drive-bys on the scene than "protesters.")
MORE:
[…] Foster, an East Carolina University alum who graduated from Campbell University law school, was elected in 2016, running unopposed for his seat. He was first appointed to the seat earlier that year by then-Gov. Pat McCrory.

Foster is a registered Republican, who regularly votes in the primaries and general elections, according to North Carolina's voter database.

The Root first reported on some of Foster's social media posts.

On Sept. 10, 2020, Foster posted a temporary profile picture of a thin blue line over a sheriff's badge from Henderson County. That day, Henderson County Sheriff's Deputy Ryan Hendrix, 35, was shot and killed by a suspect, who also died.[…]
So,  mourning the on-the-job violent death of a cop in the region is offensive and unethical?  That appears to be what is being implied here.  OH,  by the way,  "The Root" is a race-baiting, race-pimping little web site founded and propped up by the far-left Washington Post.
(For what it's worth, none of these media twerps seemed to have a problem with Laura Leslie's anti-conservative, anti-Republican social media posts a few years back.  She's still out there reporting on politics — being held up as ethical and unbiased as ever.)
MORE:
[…] In 2010, he wrote: "I'm constantly amazed at how moronic the press is," referring to a headline about Mexico's president complaining about an Arizona law to President Barack Obama.

Foster's Facebook feed is a fairly typical one — a mix of family photos, travel pictures, sports takes and memes. It contains many photographs taken by him of birds and other natural sights, many marked with a stylish photo signature.

In one post, he writes about his daughter looking for babysitting gigs. In another, he shares a photo of him as a young boy with his mother "in honor of Mother's Day week." […]
Still awfully reasonable and normal.  Get to the "outrageous" part, guys.
MORE:
[…] The feed also includes some anti-mask rhetoric, including a meme with re-imagined Queen lyrics about not wearing a mask.

"The anti-maskers getting creative. I love this," Foster wrote.

Early in the coronavirus pandemic, Foster wrote in an exchange with someone on his page that "every year the flu kills more people than have died from Covid 19."

Another post expresses his admiration for G. Gordon Liddy, calling him a "badass." Liddy was convicted for his role in the Watergate scandal.

Another from April 6 shares a TV screen grab about Coca-Cola requiring photo ID for its shareholder meeting. The company has earned scorn from the right for its stance against recently passed voting laws in Georgia.

"Hypocrisy," Foster writes.

Before he was a judge, Foster offered his thoughts on other cases. He said George Zimmerman, who killed Trayvon Martin but was found not guilty of criminal charges, "should have never been charged. The jury did the right thing. Fox News got it right again."[…]
Amazing.  A member of an industry that claims to be reporting just the news, without ANY opinion included,  is bashing this judge for expressing opinions — without offering one iota of evidence that said opinions affected his work on the bench.