Poll: Tillis among the least popular incumbent senators in DC
The Morning Consult has another poll.  They've done this for all 50 governors.  Now, they're doing it for all 100 US senators.  According to a poll of 255,120 registered voters in 50 states from July 1 to Sept. 30, here is what we know: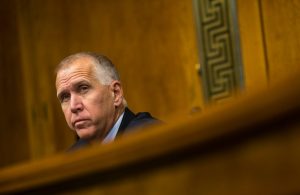 Bernie Sanders and Pat Leahy, both Vermont commies, have the highest approval ratings of ANY sitting US senator.

Least popular?  Robert Menendez,(D-NJ), currently on trial for corruption charges.  Mitch McConnell's approval is just one point higher than Menendez's rating.  Jeff Flake, the Arizona Republican retiring this year, is one point higher than McConnell.
Thom Tillis has a 38 percent approval rating.  There are only FOUR US senators rated worse than he is.  Of those, only TWO – Flake and McConnell — are Republicans.
Tillis's other numbers look worse.  Thirty-one percent disapprove of him.  Thirty percent have no opinion on him (after THREE YEARS in office).
Richard Burr is sitting a little prettier at 42 percent approval.  Thirty-two percent disapprove and 27 percent (after THIRTEEN YEARS in office) have no opinion.

The Republicans doing best with their states' voters?

  Susan Collins of Maine, John Hoeven of North Dakota, and John Thune of South Dakota.