Pinehurst Council candidate touts his local ties, business background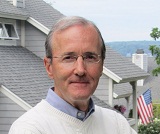 Pinehurst village council candidate John Strickland has taken his campaign to The Internet with a Facebook page and an information-laden web site.
Like mayoral candidate John Marcum,  Strickland is touting his own long ties to the village.
According to his campaign web site, Strickland is:
"a third generation Pinehurst resident through [his] Grandparents and Parents and [has] been visiting Pinehurst regularly since the age of five."
His site also includes this mission statement:  "To build on the character and tradition of Pinehurst so that it will be a vibrant village for people of all ages."
Strickland picks a number of areas he sees as important issues for the campaign:
Water:   
 I believe that Pinehurst must control, or be able to highly influence, the source or our water supply in addition to the distribution system.   Unless we control the source of water, we remain at risk for the availability of supply in times of drought such as we have experienced in recent years.  In general, I think a regional approach to a water system is the most cost efficient way forward for tax payers.
Pinehurst Village:
 The core village is the heart of Pinehurst.  I want to meet with landlords to learn from them why attracting new tenants is difficult, how the Council might help that effort,  and to understand why rents are alleged to be high compared to similar space in Southern Pines and Aberdeen.   And I want to meet with tenants, especially retail tenants, to understand why attracting customers has been difficult for some of them.  Changes to the look of the core village, including streetscapes and the design of the sand parking lot, may need to be acted upon if it can be demonstrated that such change, at taxpayers expense, will help attract residents and guests to the Village and, thus, sustain our retailers.  Sources of funding for these physical changes, and potential financial incentives for landlords or retailers, might come from reallocation of funds within the Village budget.
Given Library/Tufts Archives.
 This institution is one of the jewels of the Village.   I know because  like my grandparents and parents, I use its resources.  Furthermore, my father was its President for a period of time.   If more space is required and cannot be appropriately sourced from other existing space in the Village, then I will support consideration of  changing the setbacks, or the gifting of land by the Village  to the library/archives.  If our relationship with the National Park Service is well managed, I am hopeful that Pinehurst's Historic Registry designation will not be affected by this expansion.
The Traditions of Old Town development:
 This  project is currently a disaster.  I know because I live near it and have attended nearly every Village hearing about it.  The property should have been designed for primary residences aimed at the market segment of persons who want to downsize their homes, live in a condominium community (eg common expenses for exterior maintenance), and take advantage of the Village Center and Arboretum.  Unfortunately, it was initially designed for luxury second homes for which the market is bleak, and later approved by the Council as a high density homesite.   The developer has not maintained the property, and his current intentions are unknown.  As a Council member I will look into this problem and seek to find an acceptable solution.
Pinewild:
  This community is now an important part of Pinehurst.  I know many citizens who live there, and they are actively involved in working for the best interest s of all of Pinehurst.  The agreements made between Pinehurst and Pinewild with respect to street maintenance, police patrols, waste collection etc need to be continued.
Village Acres and the Highway 211 expansion:
  Similar to Pinewild, this community has grown to be a significant population center in Pinehurst.   The widening of N.C. Highway 211 by the NCDOT could create significant challenges for residents of Village Acres  and other surrounding neighborhoods as they seek access to parks, government buildings, and Pinehurst shops.  As a member of the Council, I will address these challenges to the NCDOT.
Performing Arts Center:
   This recent concept and proposal can become a major enhancement to the lifestyle of Pinehurst, and an economic benefit to our Village.   I will encourage the development of a sensible and financially sustainable plan.