Pat McCrory and the polls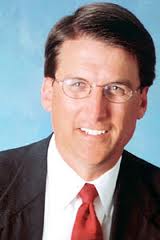 The folks at the N&O's Under The Dome column appear a bit giddy over the latest data on the 2012 NC governor race from Triangle-based Democrat consulting firm Public Policy Polling (PPP).
"Is McCrory vulnerable to a GOP challenge?"  the headline trumpets:
It's just conventional political thought that former Charlotte Mayor Pat McCrory is the Republican choice to challenge Gov. Bev Perdue in the 2012 election.

But what if the once-moderate McCrory gets a challenger from the right? This is what the latest Public Policy Polling survey envisions.

The Democratic outfit asked the question — "Would you like the Republican candidate for governor next year to be Pat McCrory or a more conservative Tea Party challenger?" — and found a Tea Party candidate gets 46 percent to McCrory's 40 percent. It's just above the 4.9 percent margin of error but worth political intrigue.
Now, why would this well-known Democrat polling firm be asking that kind of question, then shooting it over in a release to Rob C. and the boys?
Despite what the alleged mainstream media (MSM) in this state tries to tell us, Bev Perdue is politically deader-than-a-doornail.  No one with any sense wants four more of years of her.  She ran a weak campaign in 2008, and barely made it into office thanks to the strength of  Barry-O's campaign, McCain's weak campaign, and Barry-O's sizable stash (AKA street money, walkin'- 'round money, etc).  Barry-O is also flatlining politically, so Bev has no one outside of the N&O newsroom to drag her over the finish line in 2012.
Bev's greatest hope is that there is a nasty, divisive GOP primary for the right to face her in November 2012.  That scenario killed the Dems in 1984, and allowed Republican Jim Martin to slip in.
It's almost as though this PPP poll is meant to poke, prod, or encourage some Tea Party folks to open up their checkbooks, pay the filing fee, and take on McCrory in May.
Here's more from The N&O on the PPP release:
McCrory's favorable-unfavorable numbers are at 51 percent to 11 percent with a large portion (38 percent) of voters still undecided. This means the race to define him is key to the 2012 election.

The other two GOP candidates poll tested were U.S. Rep. Renee Ellmers and Agriculture Commissioner Steve Troxler, who both posted fav-unfav at 19 percent to 13 percent (68 percent undecided). In head-to-head matchups, McCrory easily tops both GOPers.
The 38% undecided number for McCrory is in line with the 47% in the GOP-aligned Magellan firm released earlier in the week.  I thought the Magellan poll was a clue that someone on the GOP is testing the waters about jumping into the GOP primary for governor.  For someone who just ran four years ago, and is currently facing a potential opponent who is very weak, McCrory is running very weak.   His name ID should be higher.  There should be more enthusiasm about him.
I am not sold on McCrory.  I think a lot of people are lining up behind him like they do with their favorite contestants on Dancing With The Stars or American Idol.  It's all about style and image.
But we should be wary about people like PPP and The N&O picking our candidates for us.  The mainstream media basically picked McCain for the Republicans in 2008.  How well did that work for the party, or, for that matter, the country?
I think a primary could be healthy for the NCGOP.  It is a terrible mistake to put all of our eggs in McCrory's basket.  The nominee needs to present a clear cut agenda that inspires the base and presents a clear-cut contrast between himself (or herself) and Madame Governor.
We've got some time.  But if someone else is out there, they should show their cards, and get a healthy intra-party debate started.