N&O P.O.S. kicks a dead man's corpse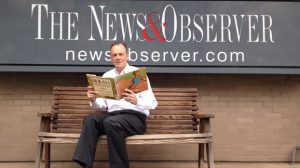 WRAL political reporter Mark Binker passed away in 2017.  During his career. We begged to differ with a lot of his output.  In our opinion,  Mark regularly abused the freedoms granted him under the First Amendment.  We gave him pure hell for it too. When he passed away, we were respectful.  However, out of respect for his grieving family, we let him rest in peace.
Leftists have no similar sense of decency.  Take ANY of the troglodytes infesting the N&O newsroom.  They gave Senator Jesse Helms pure hell during his 30 years in Washington.  (It didn't matter he was a former employee.)  When he passed in 2008, their coverage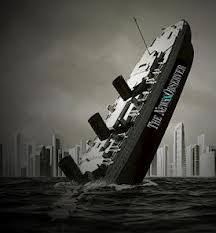 was peppered with the words "bigotry", "hate," and "racism."   (Never mind that, in his 30 years in DC, he hired two of the three black folks who applied for jobs on his staff.  One was Civil Rights movement hero James Meredith. His long-time chief of staff, Clint Fuller, was marked for death by the KKK for his investigative work on those imbeciles during his time as a Franklin County newspaperman.)
Tom Ellis, longtime political confidante to Helms, passed away on July 12.  On August 2, disgraced and demoted N&O editor John Drescher whipped up a hit piece with the headline:
"This Raleigh lawyer was one of the last living allies of a white supremacist UNC professor."  
(Subtle, eh?)
The recent death of Raleigh lawyer and political strategist Tom Ellis at 97 marked the passing of perhaps the last prominent North Carolinian who once advocated for the white supremacist views of Wesley Critz George of Chapel Hill.[…]
Really?  That's what you got from this man's long distinguished bio?  And what, pray tell, suddenly makes this George character newsworthy?  I'm pretty well read, and I had to hit Google:
Wesley Critz George (1888–1982) was an American academic. He was Professor of histology and embryology and Chair of the Department of Anatomy at the University of North Carolina at Chapel Hill from 1940 to 1949. He was a eugenicist and a segregationist. […] 

George was Professor of Biology at Guilford College from 1916 to 1917.[2] He was a Maude Fellow at Princeton Universityin 1918.[2] He became an Adjunct Professor of Biology at the University of Georgia in 1919, and an Associate Professor of Historology and Embryology at the University of Tennessee from 1919 to 1920.[2]

George returned to his alma mater, the University of North Carolina at Chapel Hill, where he was Associate Professor of Anatomy from 1920 to 1924, and Chair of the Department of Anatomy from 1940 to 1949 at the University of North Carolina at Chapel Hill.[2][3] He became Professor Emeritus in 1949.[2]

Beginning with studies of sponges and tunicates,[4] he became an internationally recognized researcher on the genetics of race. […]

George argued that the division between Black and White races was founded on fundamental biological differences. He saved special venom for Franz Boas and the Boasian physical anthropologists who argued that race was of no biological consequence. George used some of the results of intelligence tests that Arthur Jensen and Charles Murray and others used later as evidence of lower average intelligence among Blacks.[6]

After the 1954 Supreme Court Brown v. Board of Education decision, George's fight against school integration escalated, reaching its height in 1955 – 1957, when George was active in the Patriots of North Carolina and then in the North Carolina Defenders of States' Rights which picked up the anti-integration banner after the Patriots' demise.[6[….]
So, we're talking about stuff that happened in the 1940s and 1950s.  Here in 2018.   (George, by the way, DIED in  1982.)
But Drescher was just getting started:
[…] Among the advocates for George's work was Ellis, a friend and strategist for U.S. Sen. Jesse Helms who helped elect Helms, John East and other conservatives.
*And there you go.  White supremacy = conservatism.*  (He stomped on FOUR dead people, who can't defend themselves, in that passage.)
MORE:
[…] After the U.S. Supreme Court ruled against segregated schools in 1954, North Carolina's political leaders formed a commission, called the Pearsall Committee, to see how North Carolina could avoid integrating. Ellis was one of two staff attorneys.
Here's a more objective description of the Pearsall Committee. MORE:
[…] Across the South, white politicians and business people worked to fight integration. George was a leader in that effort and a prolific letter writer, as shown by the collection of his papers at UNC. George mailed pamphlets of his articles and speeches to Citizen Councils and other across the South who shared information and joined forces to resist.

Ellis was an ambassador for George's views and an ally. "Tom Ellis of Raleigh brought to my attention the work you were doing in the field of racial differences," T.V. Williams Jr., the executive secretary of the Georgia Commission on Education, wrote George in 1956. "I am not a geneticist by profession; however, I am most anxious to read of and understand your work in this field."[…]
I share stuff I don't agree with 100% all the time.  I am sure there were plenty of folks doing the same prior to the social media age.
MORE:
[…] William H. Tucker, a retired psychology professor at Rutgers and author of the 2002 book, "The Funding of Scientific Racism," concluded that it likely was Ellis in the mid-1950s who sent George's pamphlets to Harry Weyher, a North Carolinian who was then a New York lawyer representing the Pioneer Fund. That nonprofit supported research to establish the genetic and intellectual inferiority of blacks.[…]
Leveling an accusation based on the word of a liberal academic from New Jersey (who I am suuuuuuuuure was predisposed to saying kind things about Jesse Helms and his team). *NICE.*
MORE:
[…] Ellis later served as a Pioneer Fund board member for four years. When Ellis was nominated by President Reagan in 1983 to an international broadcasting board, Ellis was sharply questioned about his views on race, The Washington Post reported. Ellis testified that his views on race had changed. "I do not believe in my heart that I'm a racist," he said.[…]
Robert "Sheets" Byrd (D-WV) — an actual Klan leader — said similar things during his time in the US Senate.  Drescher and his ilk gave him a pass.
Better yet, Josephus Daniels — one of the founding fathers of the paper Drescher writes for — is described online as "a powerful supporter of the Ku Klux Klan although never a member."  Daniels gave lip service to no longer being a racist, and he gets a pass.  In fact, he's still got a lot of stuff in Raleigh named for him.
MORE:
[…] Ellis said he resigned from the Pioneer Fund board after newspaper reports about it. Ellis eventually asked for his nomination to be withdrawn.

Reports of Ellis' connections to the Pioneer Fund resurfaced recently when President Trump nominated Raleigh lawyer Tom Farr for a federal judgeship. Farr practiced law with Ellis for years, considered him a mentor and was named in Ellis' obituary. Several civil rights groups have opposed Farr's nomination in part because of his relationship with Ellis.[…]
Oh, let's smear ONE MORE conservative while we're at it.  (Of course, our TWO useless senators deserve some heat for letting Farr hang out there to dry. But that's another story.)
If you're wondering why these guys are having to practically GIVE their paper away via email, LOOK NO FURTHER.