Next stop for McIntyre: Governor?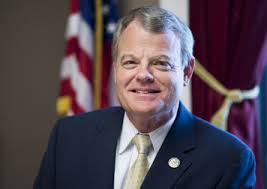 Congressman Mike McIntyre made a big announcement today. He's coming back home after 18 years in DC.  A 2014 reelection was looking tough in his new GOP-leaning district.
Mike and I are both native Lumbertonians.  We know each other — and know a lot of the same folks.  My phone has been ringing off the hook since Mike made his big announcement today.  What has people worked up is this section of his farewell announcement:
[…] "Indeed, I am grateful to all of the Democrats, Republicans, and Independents with whom we have successfully worked through nine elections over 18 years.  My family and I are ready for a new chapter and excited about new opportunities to continue helping North Carolina.[…]
A new chapter? New opportunities for helping North Carolina?  Hmmm.  I don't think politics have quite left Mike's bloodstream.
Word from around the old hometown is offering hints toward McIntyre's future plans.  It is my understanding that he is to become a partner in a prominent Lumberton law firm. At that point, my Lumberton sources tell me, the groundwork will start being laid for a potential gubernatorial run.
As a former congressman, McIntyre will have the financial and political organization already in place.  In terms of public opinion, he fares much better with the voters than Roy Cooper — who is taking a sharp turn to the left in preparation for his gubernatorial run. 
Mike has a pretty good campaign cash stash already in place. He could roll that over for use in a gubernatorial run, if he so chose.
Mike's home base in Robeson County has been a reliable powerhouse of votes and money for The North Carolina Democrat Party.  It's played a significant part in primaries and general elections for Democrats for decades.
McIntyre's middle-of-the-road voting record in DC, and his strong appeal to the religious right, could make him very competitive in a general election.  Democrat base voters — hungry for a return to power in Raleigh after four years in the wilderness — just might be able to look past some of McIntyre's more conservative positions.
Kay Hagan looks seriously endangered this year. She and Roy Cooper are pretty much the A-team for state Democrats.  Beyond them, the talent pool gets really thin.  Right now, Cooper is the only viable option out there for the 2016 race against Pat McCrory.
Methinks Team McCrory would be very wise to keep a close eye on the man from Lumberton.