New map: A dilemma for 'Public Official A'?
One milestone most people in politics TRY to avoid is getting mentioned in indictment documents — federal or otherwise.  In  his short career in DC,  congressman Mark Walker has already achieved JUST THAT.
Drive-by reports indicate that the new congressional maps definitely threaten the Capitol Hill careers of Walker and George Holding.  Let's take a look: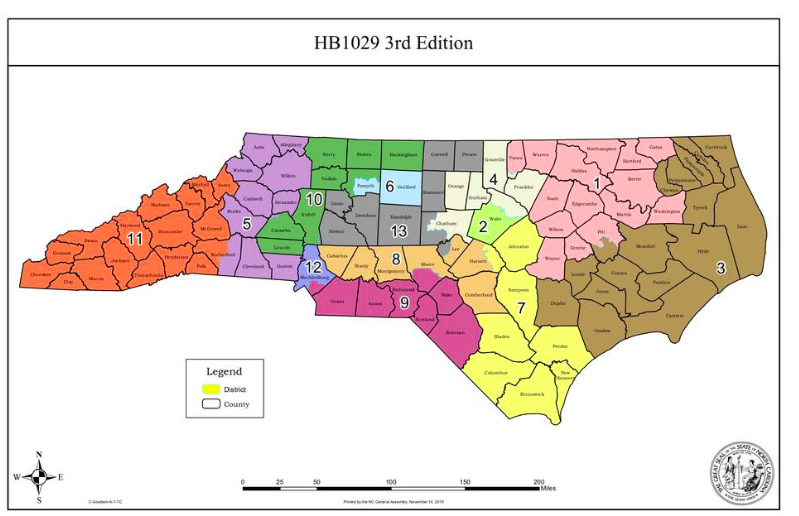 Walker represents the Sixth District.  In the newly-approved map, he's been stuck with ALL of Guilford County — Greensboro and his home base, and the adjacent greater Winston-Salem area of Forsyth County.  (Wow.  That's serious tear-down-Confederate-statues  territory there.)
Why would the Republican majority on Jones Street do something like that to a fellow Republican?  Let's think about this.  Walker is mentioned, under alias,  in the Robin Hayes-Eric Lindberg indictment currently being slugged out in federal court.  What's described in the indictment does not make Walker look good at all.   If  the feds succeed in proving a bribery case there,  Walker very well could end up with a big-ol' bulls-eye painted on his forehead.  This could be the NCGOP establishment's way of getting Walker off the "stage" before things get really ugly and he becomes a serious liability for the party as it heads into an important election.
Kathy Manning,  a Hillary fan who ran against Ted Budd last time, is already making noise about spending MORE of her husband's money in a run for Congress.  This time in the Sixth District currently held by Walker.
One way this could back-fire on the NCGOPe?  Walker HAD been making noise about jumping into the 2020  US Senate GOP primary race.    Already in that fray?  Incumbent Thom Tillis,  businessman Garland Tucker, and solar panel installer Sandy Smith.   If this map stands up to legal scrutiny,  he may take the leap.
Walker has done a good job of ticking off conservatives in his district.  He's held meetings with Democrats in his district without bothering to call local Republicans.  Local conservative leaders regularly regale us with tales of being "misled" and "lied to" by Walker,  a  Baptist minister.  He's stood with the party establishment in all kinds of conflicts with conservatives.   There's a good chance he could draw some votes from Tillis if he gets in that mix.